A report issued today by the Consumer Financial Protection Bureau (CFPB) examines the financial consequences of medical billing and collections endured by individuals and families across the country. The report draws from the rising volume of medical billing and collection complaints submitted to the CFPB. The CFPB is using today's research to strengthen its across government and industry efforts to support patients and families suffering the consequences of medical billing and collections.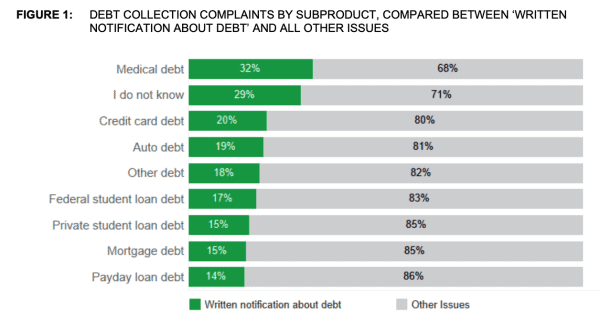 "Many Americans feel forced to pay medical bills that they have already paid or never owed to begin with," said CFPB Director Rohit Chopra. "The credit reporting system should not be used as a weapon to coerce patients into paying medical bills they do not owe."
People report that they receive medical bills that are inaccurate or not owed, and they describe the subsequent and significant difficulties identifying, verifying, or eliminating the bills. People also report learning of an outstanding medical bill only after experiencing a drop in their credit score and being told that only paying the bill would remove the negative collections information from their credit report. When they did receive prior notice of medical bills in collections, people reported that debt collectors included detailed medical information that resulted in privacy breaches of sensitive medical information. Many people reported paying medical bills to avoid adverse financial and privacy consequences, even when they did not believe the bill to be valid.
When allegedly unpaid or unresolved medical bills get referred to collections and reported to the credit reporting system, people face reduced access to credit, increased risk of bankruptcy, and difficulty securing employment and housing. These negative consequences can occur even when the underlying bill is erroneous, not owed, or unverified.
Among the key findings from today's reports are that people:
Do not recognize or owe alleged medical bills, but they continue to be contacted by debt collectors. Debt collectors are required to take reasonable steps to verify debts. Yet, in some complaints, individuals stated that they did not recognize the company sending them collection notices or that the notices did not contain sufficient information to identify and verify the alleged debt. People also submitted complaints about being contacted by debt collectors for bills that had already been paid in full, covered by insurance, or resolved through charity care. From 2018 to 2021, complaints about collection attempts on medical bills that were not owed increased by 31%.
Suspect unpaid medical bills are being surreptitiously and unlawfully placed on their credit reports. Many people submitting complaints about medical bills state that they only realized the bills were in collections when they checked their credit report or when they were applying for credit. This coercive use of the credit reporting system by debt collectors is an illegal but common debt collection tactic, especially for error-prone debts, such as medical bills.
Experience their credit reports being used as weapons to force payments. People reported that once medical bills were placed in collections and furnished to credit reporting agencies, their credit scores stopped reflecting their ability to repay debts. Their lower credit scores became weapons debt collectors could use against them to force payment. In some instances, individuals reported becoming so frustrated trying to resolve allegedly unpaid bills that they gave in and paid the debt collector. They just wanted to make the collection efforts stop and to increase their credit scores.
Report that collection notices contained large amounts of highly sensitive medical information. Individuals described feeling that collection notices included more personal medical information than authorized or permissible under the Health Insurance Portability and Accountability Act (HIPAA). The notifications they received often included detailed bills, which listed procedures, tests, and medications.
The consumer experiences in today's report strongly suggest that many medical bills reported on credit reports are disputed, inaccurate, or not owed.
This finding supports previous research by the CFPB that found medical bills are less predictive of future repayment than other bills or credit obligations. Specifically, medical bills do less to help lenders determine the likelihood that a credit applicant will repay a new credit extension, like a personal loan.
Read today's report, Complaint Bulletin: Medical billing and collection issues described in consumer complaints.
Consumer Resources
Medical billing resources
Consumers can call the Centers for Medicare & Medicaid Services No Surprises Help Desk at 1-800-985-3059 from 8 a.m. to 8 p.m. EST, 7 days a week, to ask questions or to submit a complaint about an insurance company, medical provider, or health care facility not following the surprise billing rules. Complaints can also be submitted online.
Providers, air ambulance providers, and health care facilities can also submit complaints to the Centers for Medicare & Medicaid Services No Surprises Help Desk if they think a health plan is not complying with the dispute resolution process.
If consumers need help with health insurance and have a problem or question, they can contact their state Consumer Assistance Program. These programs help consumers who are experiencing problems with their health insurance or seeking to learn about health coverage options.
The CFPB published a set of questions and answers about surprise medical bills and the No Surprises Act, as well as information about debt collection and credit reporting when medical bills are sent to collection.
Debt collection resources
The Fair Debt Collection Practices Act makes it illegal for debt collectors to harass or threaten consumers when trying to collect on a debt. In addition, on November 30, 2021, the CFPB's new Debt Collection Rule became effective. This rule clarifies how debt collectors can communicate with consumers, including what information they're required to provide at the outset of collection about the debt, consumers' rights in debt collection, and how consumers can exercise those rights. Here are five key things to know about the new debt collection rule.
Consumers can learn more about what they should do if a debt collector contacts them, including accessing sample letters for those experiencing common problems that may come up with debt collectors.
Consumers can learn more about the changes to the Department of Veterans Affairs' medical debt collection practices.
Consumers can learn more about how the CFPB is protecting people from the consequences of surprise medical bills.
Consumers can learn more about what to do if they're wrongfully billed for Medicare costs.
Credit reporting resources
Consumers should check their credit reports at least once a year to make sure there are no errors that could keep them from getting credit or the best available terms on a loan.
If consumers identify an error on their consumer report, they should dispute that information with the consumer reporting companies. Under the Fair Credit Reporting Act (FCRA), consumers have a legal right to dispute credit history errors for free. They do not have to pay a credit repair company to dispute errors.
If a consumer reporting company doesn't respond—or doesn't respond adequately—to a dispute, consumers have rights. Some of these rights only apply under certain circumstances. There are also time limits on exercising those rights.
Latest posts by Steve Rhode
(see all)