I've recently heard more about a group offering legal help to get people out of debt. People have mentioned similar names of companies, both Century Law Group and Century Law Firm.
From a look at each company's website CenturyLawInc.com and CenturyLawGroup.com it initially appears to me that the company primarily focused on selling debt relief services is Century Law Firm out of Florida.
So Let's Look at Century Law Firm
It has been a while since I did a site review on a debt relief company but let's take a look and see what Century Law Firm says.
The company says they are located at 301 W Bay St #1465 in Jacksonville, Florida.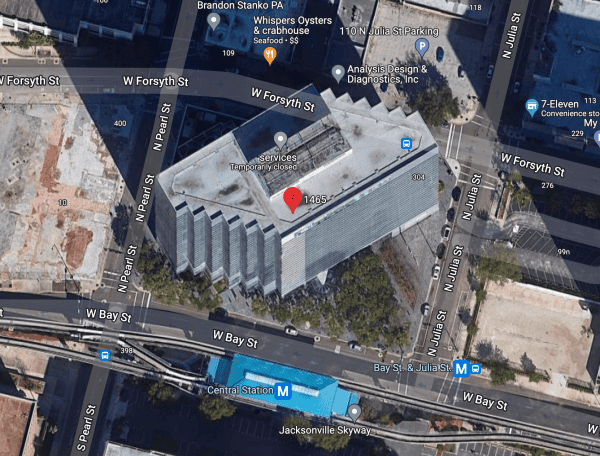 The website says, "Century Law Firm the offices of Erik Rosskopf is a law firm."
The Florida State Bar says Erik Rosskopf is an attorney in good standing to practice law in Florida and Georgia. It also says his firm website is 1stCoastLaw.com. That site says it is also Century Law Firm, but this one is Century Law Firm, PA and not Century Law Firm, Inc., as the URL would indicate. – Source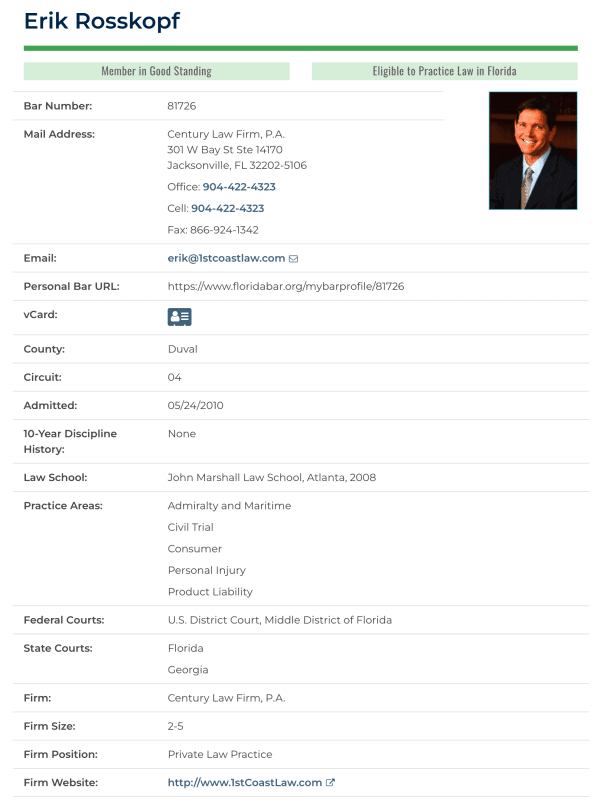 This could get very confusing for consumers.
Century Law Firm, PA, says on its 1stCoastLaw website it provides services in Florida and Georgia. They also offer no fees unless successful and house calls.
The company is listed at 301 W Bay St, Ste 14170, Jacksonville, Florida. I think there is a pretty good chance both companies are located in virtual office spaces at Executive Suite Professionals, Alliance Virtual Offices, or Davinci.

Virtual offices alone are not bad. In my life, I've used them a couple of times.
When it comes to working with a debt relief company a virtual address does not give you an indication of where the people are you are hiring or where your confidential financial information is actually stored.
According to Florida State Bar, Attorney Rosskopf specializes in Admiralty and Maritime, Civil Trial, Consumer, Personal Injury, and Product Liability.
Century Law Firm Companies in Florida
While the Century Law Firm "inc" site is the primary debt relief site, the State of Florida does not have a registered company under that name. Only Century Law Firm, PA is an active company. The last registration of the company at the time of this post lists Erik Rosskopf as the President and Kathleen Rosskopf as the Secretary. The state registration lists a home address, so I do not include that here.
Even though the debt relief site URL says Century Law Inc, I don't think there is any such company registered to do business in Florida at the time of this posting.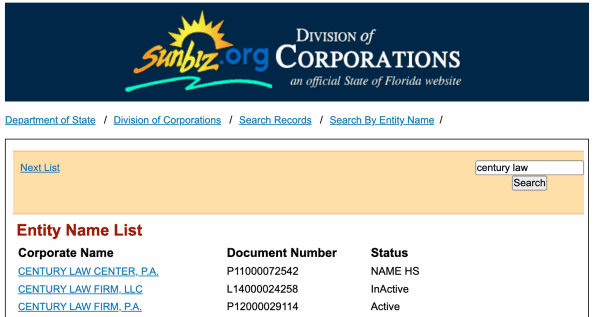 To make things less precise, the Century Law Firm debt site only describes itself as Century Law Firm without any further legal description to identify the legal entity responsible.
However, the 2014 archive of CenturyLawInc.com is a website for "The Law Offices of Erik Rosskopf" and is focused on debt relief issues.
The BBB gives the company an A+ rating at the time of this posting.
Debt Help Services Offered by Century Law Firm
The website CenturyLawInc.com appears to be the primary site for debt help services offered by Attorney Rosskopf. So from this point, my comments and observations will be about the information on that site.
The site states Century Law Firm offers assistance with bankruptcy, personal injury, debt defense, and Fair Debt Collection Practices Act (FDCPA) issues.
Under the heading of Debt Defense, it is not clear to me if the company is selling a debt validation or debt settlement solution. Maybe it is something else entirely. The site is not clear to me.
There appears to be more focus on the FDCPA section of the website. The site says, "We've helped clients with many of these illicit actions. Using an attorney at Century Law to file an FDCPA lawsuit may provide you with relief from creditors. Although you'll still have to repay any valid debts, avoiding unfair or illegal harassment can relieve stress and make your life livable again."
Century Law Firm Points to Ponder
The Century Law Firm website provided a link to LinkedIn, and that profile linked to people claiming to be associated with Century Law Firm. Oddly, most people are listed as being in the greater New York City area and not in Florida.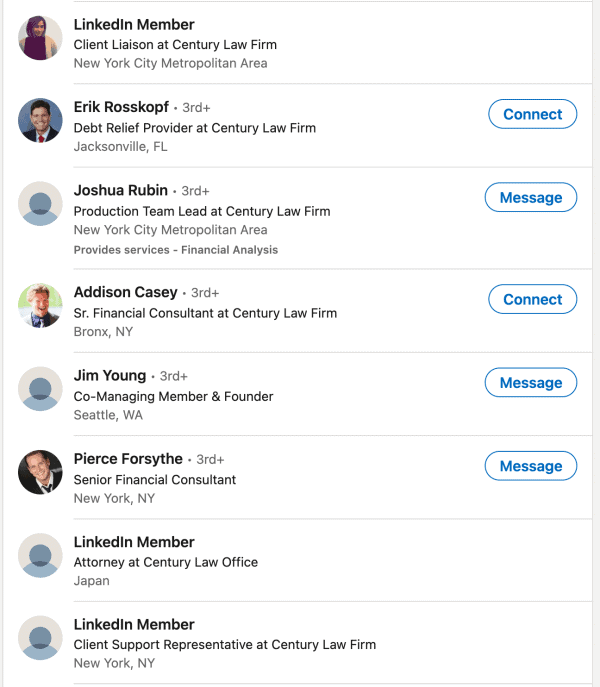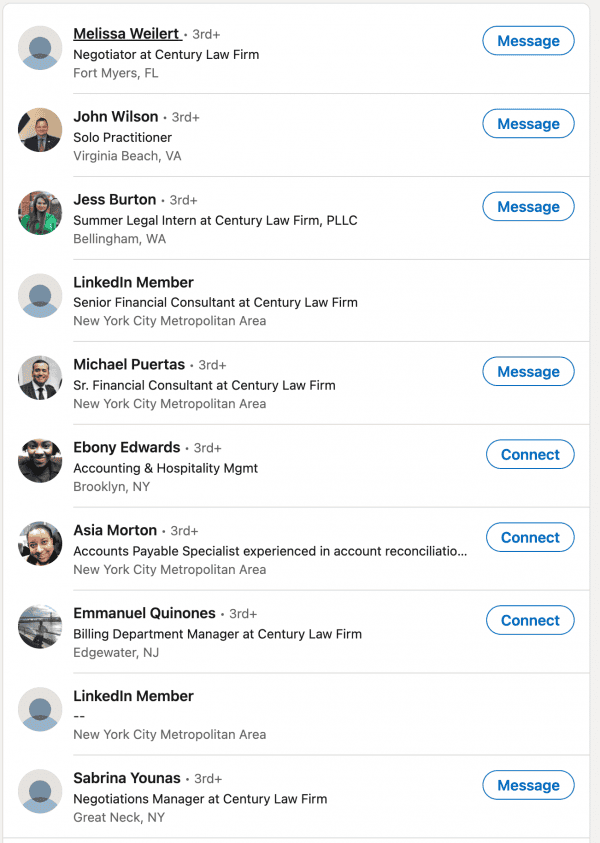 (Note: Some other similar company names are not associated with the Century Law Firm I am writing about.)
It could just be a coincidence, but one person said they worked at the New York located Strategic Financial Solutions before working at Century Law Firm. The debt relief space is a small world, so I don't know of any specific relationship.
A search of New York State records could not locate any company starting with Century Law that seemed related. Just Century Law Studios Franchise from 1978.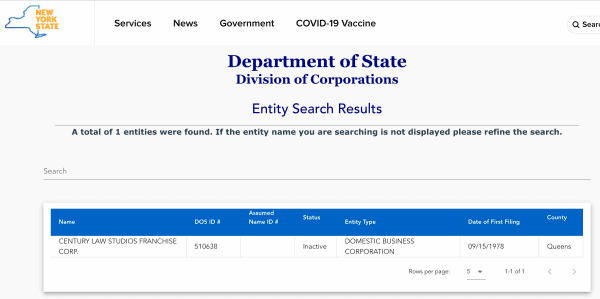 Century Services
I am told the client agreement for Century Law says the administrative services will be provided by a separate company named Century Services. I did locate Century Services, LLC in New York City. That might explain why people identifying themselves as working for Century Law Firm claim to work in the New York City area.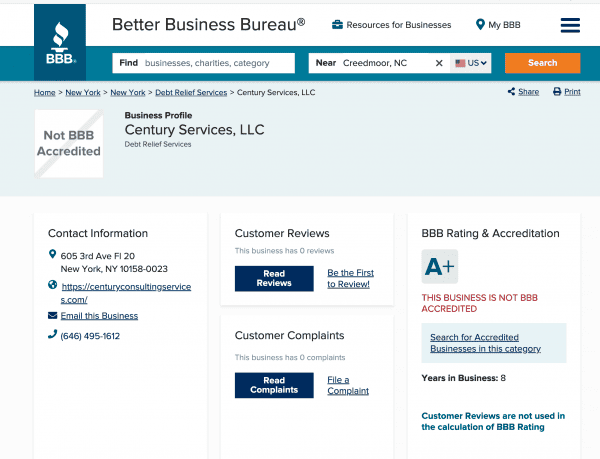 According to New York State, Century Services is a registered LLC but has not filed statements since 2017.

The BBB says Century Services, LLC is located at 605 3rd Ave Fl 20, New York, NY 10158-0023, and the website for the company is centuryconsultingservices.com.
The Century Services website home page brags about a 5-star rating on Glassdoor regarding employee satisfaction. So I had to go look at what people were saying to see how happy they are.
Glassdoor says the Century Services company rating is 3.4 as of this post.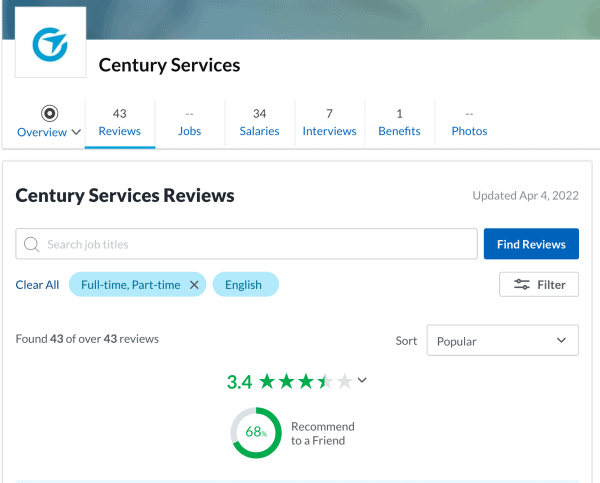 A look through recent company reviews is eclectic. The latest review is from an employee that claims to still work for Century Services that says, "The product is bait and switch, but there are worse things on the market."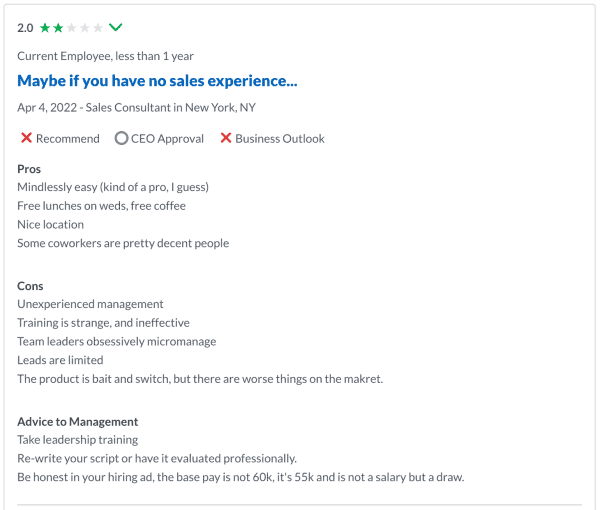 The next review is from a happy employee that says they are the team lead in the litigation department. I guess they are also frustrated because they say, "Due to the area of law, clients tend to take out their frustrations on us."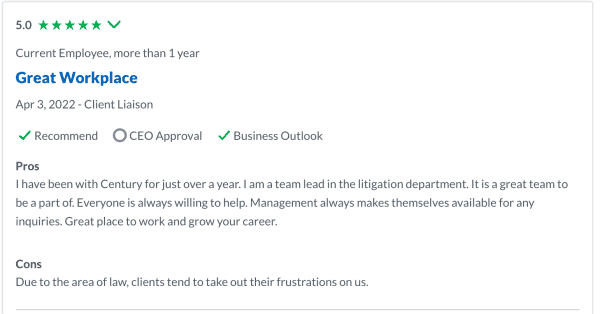 The next review is two-stars.
Century Services appears to have responded to the employee and said, "Thank you for taking the time to provide feedback. We are currently in a growing phase for Century, and as we continue to expand, we must implement new policies and procedures that are the foundation of growth here at Century. As we're sure you can imagine, the firm has to change processes when it goes from 80 people to 160+ people in less than 2 years time to ensure uniformity across the board. While we are attempting to put these new procedures in place, it may mean multiple meetings with the team to ensure the new policy is understood and used as it should be especially if we find procedural issues with a specific employee or even the entirety of the team. We are sorry to hear that this role has negatively impacted your mental health, but we see that you are still a current employee of the team. We ask that you bring these issues to the attention of either your Management team or HR if you are not comfortable sharing it to your Mgmt team. While we do our best to proactively search for solutions, we rely on the team to bring issues to the forefront as they are the ones on the frontlines, working with clients, and working with the new procedures put in place. We are dedicated to bettering our processes here at Century to ensure that our clients and our employees are equally taken care of! We hope to hear from you soon regarding your specific concerns, so we can begin to resolve the issues together! We hope you have a lovely day, and the team is here for you! Do not hesitate to come to HR if we can provide any further assistance regarding your mental health as well."
There are multiple reviews about Century Services on Glassdoor. Both happy and unhappy.
One review that concerned me was the five-star review that made this statement:
"Century creates shell corporations that "pre qualify" people drowning in credit card debt for consolidation loans. There is no intention of giving them a loan. Instead, Century's reps tell them how bad their credit situation is and try to sell them on debt settlement. Reps feed clients scripted lies created by management and eventually enroll them in a program that they likely can't afford and will have long lasting effects to their credit. There's a reason Century only operates in 20ish states, because these bait and switch tactics are illegal everywhere else. Turnover is insane. Only way to move up is if you're related to management or if you're hooking up with the sales manager."
Feel free to read all the reviews for yourself and come to your own conclusion.
Are these unhappy employee postings the result of growing pains or issues with the product or service? Let me know what you think by posting a comment below.
LinkedIn has information on the company as well.
Century Services appears to use the CenturyConsultingServices.com email address as shown here and here.
That page lists Liel Dardashtian as a company director and Scott Bickel as the Chief Operating Officer.
Is this the same Liel Dardashtian that was listed as a manager and sales production at Strategic Financial Services? What do you think or know, post info in the comments below.
Century Law Firm Employee Happiness?
That reference from Century Services to Glassdoor also made me curious if there were any Century Law Firm reviews there as well.
Glassdoor has some interesting statements about Century Law Firm. One says, "There are a few staff members who are still employed because they have information on upper management that would destroy the company if leaked." – Source
If anyone has something to share, you can send me a tip here.
The jobs appear to be located in the New York City area and not Florida from employee reviews.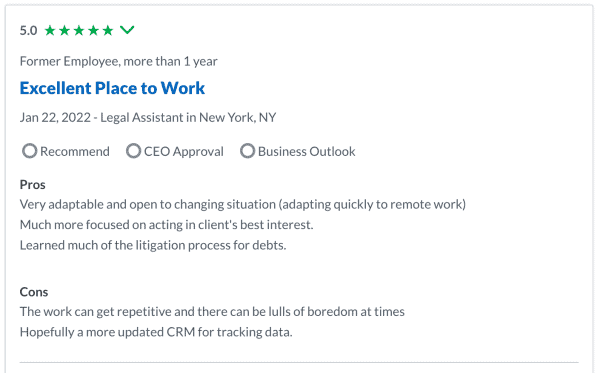 A search of companies registered to do business in New York City could not locate any company beginning with Century Law.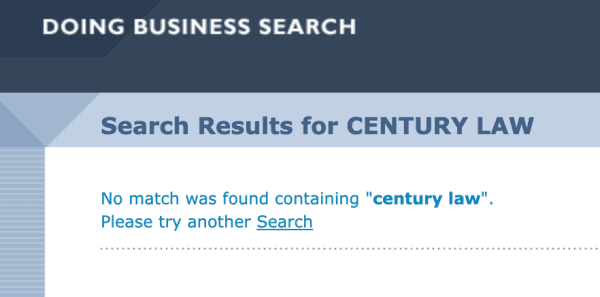 If there was anything I got wrong in this post, click here, and let's get it corrected.
Bottom Line
It appears the correct name of the company offering debt relief services is Century Law Firm and not Century Law Group.
In order to not make this post too long, I did not continue my research deeper into either company. This was a quick surface scratch.
If you would like to do your own research you could read the following free guides.
If you do decide to do your own research and have anything additional to add, please post it in the comments below.
Latest posts by Steve Rhode
(see all)