The Government Accountability Office (GAO) has just published a report examining Income-Driven Repayment (IDR) programs and how they are being managed. The findings are not encouraging.
The Department of Education approved forgiveness for a total of 157 loans under Income-Driven Repayment (IDR) plans as of June 1, 2021, but has not taken the steps necessary to ensure that all eligible loans receive IDR forgiveness. IDR plans generally lower monthly payment amounts and extends repayment to 20 or 25 years of qualifying payments, after which borrowers become eligible for forgiveness of their remaining loan balances without needing to apply. However, GAO found that about 7,700 loans in repayment (about 11 percent of loans analyzed) could be potentially eligible for IDR forgiveness.
In this age of struggling with student loan debt, it feels unconscionable to leave so many loans eligible for forgiveness, unaccounted for.

At this level of accountability incompetence, up to 165,000 loans will be unproperly accounted for by 2030 when 1.5 million loans are eligible for forgiveness.
The Department of Education (ED) and its servicers told the GAO they do not provide regular updates to borrowers in IDR plans on the counts of qualifying payments made toward forgiveness unless borrowers request them. They also do not notify all borrowers about options to request and verify these counts.
A Wave of IDR Loan Forgiveness is Approaching
Federal student loan debtors have been pushed and encouraged to enroll in IDR programs as a solution to unmanageable payments. It is an imperfect solution but better than nothing. See Why Income Based Student Loan Payments Can Be a Terrible Trap.
Straight Answers Are Rare
Trying to get a straight answer from ED or loan servicers about how many payments count towards forgiveness is difficult. Between the poor quality of the underlying data to incorrect advice from servicers, debtors are left in the dark.
To demonstrate how screwed up the loan data is, about 400 loans in the National Student Loan Data System (NSDLS) data we obtained included repayment start dates prior to 1994. However, the Direct Loan program began in 1994, and therefore, loans could not have entered repayment before that year.
Let's take a look at how difficult it can be to try and guess when forgiveness should take place.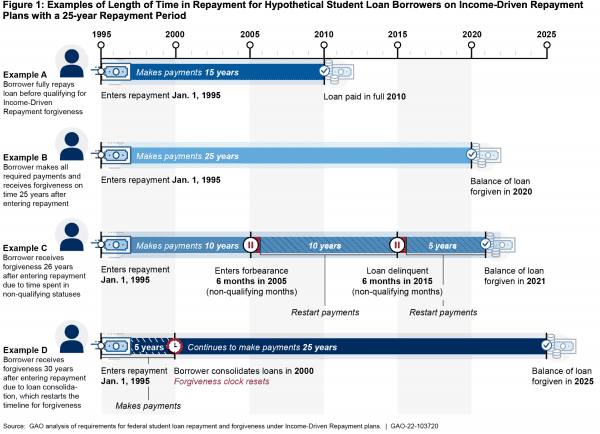 At the start of this piece, I mentioned the 11 percent of loans that appeared to qualify for forgiveness but were not forgiven. This encompasses about 3,000 debtors with 7,700 loans.
GAO findings found "Given gaps in Education's data, we were not able to determine whether any of the 7,700 loans we identified are eligible for IDR forgiveness. According to Education officials, prior to 2014, NSLDS did not contain complete and reliable data on delinquencies or information on repayment plans, which is needed to determine whether a loan is on a plan that could qualify for IDR forgiveness. Education took steps to address these data limitations starting in 2014; however, the changes do not retroactively apply to older data according to Education officials. Further, while NSLDS also includes cumulative counts of qualifying payments toward IDR forgiveness, officials advised against using them in our analysis because they are not sufficiently accurate to determine when a loan is eligible for forgiveness. These data limitations make it difficult for Education and loan servicers to systematically track the number of qualifying payments made by borrowers, raising the risk that some of the approximately 7,700 loans we identified were eligible for but did not receive forgiveness as of September 1, 2020."
Education has been aware for several years that older qualifying payment counts may be inaccurate, as described by officials and documented in a study initiated in 2015, a 2016 monitoring report, and 2017 email communications between three servicers and Education. Education officials identified some steps the agency has taken to improve counts of more recent qualifying payments. The changes for newer qualifying payments included improved data collection starting in 2014, such as more reliable information on approved $0 payments on IDR plans.
Recommendations were made in 2018 to correct the quality of loan data but Education officials said these changes did not resolve data quality issues for older payments.
Despite the known issues with older qualifying payments, Education advises servicers to consider previous servicers' counts as accurate. Education does not require current servicers to verify the counts unless borrowers request that they do so.
The loan servicers are part of the problem but also have their hands tied. Education documents from 2016 and 2017 acknowledged that verifying older counts can be difficult. For example, a 2017 Education document summarizing challenges with counting qualifying payments noted that the process involves making assumptions based on limited information and may result in inconsistencies across servicers.
Applications for forgiveness are difficult to process correctly. The GAO noted "Education's procedures for approving loans for IDR forgiveness do not ensure that older counts of qualifying payments at higher risk of being inaccurate are identified and addressed when needed. Education officials said that servicers are generally required to submit documentation to the agency for review and approval when they identify a loan at about 6 months from IDR forgiveness. Education officials said that before submitting loan history information, servicers must verify the accuracy of qualifying payment counts for the period when they were servicing the loan, but are not required to verify older counts from previous servicers."
Student Loan Payment Accounting is Not Dependable
A key finding of the GAO investigation was that without procedures to identify loans at higher risk of having inaccurate qualifying payment counts and steps to address any inaccuracies, Education lacks reasonable assurance that eligible loans receive timely IDR forgiveness. The lack of such procedures raises the risk that some borrowers may experience delays in receiving forgiveness or not receive the loan forgiveness to which they are entitled under the program. While Education reimburses borrowers for any loan payments made beyond the date forgiveness was due, such delays could negatively affect borrowers, especially those with lower incomes. In addition, if inaccuracies in qualifying payment counts are not identified and addressed during the final review, an eligible borrower may pay more than required.
Report Conclusions
IDR plans offer the promise of forgiveness to eligible borrowers with remaining student loan debt after 20 or 25 years in repayment. However, Education has not taken the necessary steps to ensure that borrowers who make the required number of qualifying payments receive timely IDR forgiveness. The analysis identified thousands of borrowers who could be at risk of delayed forgiveness due to potential payment tracking errors. While Education has taken steps to improve the data and procedures its contracted servicers use to track borrowers' progress toward loan forgiveness, these efforts have not addressed concerns about the quality of older counts of qualifying payments. Therefore, counts at highest risk of being inaccurate may not be identified and addressed. Taking steps to identify higher-risk loans and address any potential errors that could affect forgiveness would help provide reasonable assurance that eligible borrowers receive timely IDR loan forgiveness.
Many borrowers enrolled in IDR plans need information about IDR forgiveness requirements in order to make informed decisions throughout repayment, but Education does not ensure that borrowers receive this information either by providing the information or directing servicers to do so. Key communications omit information about IDR forgiveness requirements, such as what counts as a qualifying payment. In addition, borrowers do not receive regular updates on their counts of qualifying payments toward forgiveness or notifications about the options to request their counts and verification of those counts, so that any inaccuracies can be identified and corrected. Given the risk of inaccurate qualifying payment counts, it is particularly important that borrowers know they have options to review the counts and to request the counts be verified if needed. It is also important such verifications are performed using procedures to ensure consistency. Moreover, providing regular payment count updates as data quality allows is key to fully informing borrowers and identifying errors. Unless Education addresses these gaps, IDR borrowers may make uninformed decisions and be unable to seek correction of inaccurate counts, potentially delaying their progress toward IDR forgiveness.
Identifying and addressing payment tracking errors and improving the information provided to IDR borrowers will become particularly important as the number of loans potentially eligible for IDR forgiveness greatly increases and as Education transitions to the Next Gen servicing system, potentially shifting servicer roles and requirements. Although the planned transition provides opportunities to improve, implementing changes in the interim will better position Education to ensure all IDR borrowers receive timely IDR forgiveness.
Key Points for Consumers
Student loan debtors are left in a bad spot here. On one hand, the Department of Education steers consumers away from student loan assistance debt relief companies because many are scams. Then you have student loan servicers acting as agents for ED that provide bad information or have to deal with bad data.
At times it feels as if the problem is not if a debtor can get an accurate answer but if that is even possible given the data dysfunction and companies trying to scam or prey on consumers.
The only sound advice is for student loan debtors with problems, concerns, or questions to seek the advice of a student loan advocate like Damon Day. Someone that is on the side of the consumer and who can give good advice based on reality.
I have confidence student loan payments are being recorded, the underlying problem is if they are being recorded correctly.
Every debtor that has or is making payments towards an IDR forgiveness should remain on alert for regular accountability of payments counts towards forgiveness. This might even be something consumers do annually.
Latest posts by Steve Rhode
(see all)