I received information from a tipster (send in your tips here) in Canada that wanted to share new information about these companies.
The tipster (send in your tips here) said:
"I was amazed at how frequently I was lied to when I spoke with employees from these companies. I can't remember anyone lying to me that much in one conversation before. In one conversation I was told three times in three different ways that their debt management program would not hurt my credit. In fact, it would "build" my credit.
These claims and numerous others are completely contradicted by their client contracts (I obtained one from each company).
Once I expressed interest in their program and provided my personal information, I had to wait for 30 minutes for their processing department to assess my application and obtain the rates that creditors were offering that day.
Exactly 30 minutes later, the sales guy called me back and provided me with the interest rates that my creditors were offering that day. He urged me to act quickly because creditor "interest rate offers fluctuate with the market."
I had to refrain from bursting out in laughter. What a load of rubbish. To make maters worse, he claimed that American Express was offering me 0% interest if I signed up for their debt management program that day. I then called American Express, and they told me what I already knew. They do not deal with any for-profit debt management company. The Synergy Debt Group employee's claim was complete non-sense."
This tip led me to find two recent article published by these companies by a group in Canada.
Clear Blue Debt Solutions
Clear Blue Debt Solutions, a company I wrote about before has resurfaced as the target for a very extensive article by a Canadian debt agency.
The article, Clear Blue Debt Solutions is Misleading Canadians with False Information
The article lays out some very worrisome points about this company which appears to be controlled or run by an American company.
The article makes the following statements and allegations:

Clear Blue Debt Solutions Inc., a Florida based debt settlement company, has a team of telemarketers calling Canadians from Melbourne, Florida. These telemarketers refer people to either Clear Blue Debt Solutions or Synergy Debt Group "Counsellors" who earn 30% commission on their sales if they meet their sales targets.

Claim to be a Canadian company with a success rate over 90%.

Clear Blue Debt Solutions Inc. is incorporated in the United States in state of Delaware and operates out of 3270 Suntree Blvd, Suites 102A & 102B, Melbourne, FL 32940. We confirmed this with three of their employees. However, it was apparent that they are trained not to reveal this information, nor are they allowed to disclose that they use to call themselves the Vortex Debt Group

Clear Blue Debt Solutions' Counsellors are not accredited by any Canadian organization. Instead they claim that their Counsellors are accredited through the International Association of Professional Debt Arbitrators (IAPDA). Clear Blue tells us that this accreditation process takes at least 6 months to complete. However, a former Clear Blue employee tells us that close to 50% of their Counsellors leave the company every month. If this allegation is true, then it would be difficult for them to get many of their Counsellors accredited.

Employees confirm that they are working out of the same offices that the Vortex Debt Group was run from: 3270 Suntree Blvd, Suites 102A & 102B, Melbourne, FL 32940.

A former client of Clear Blue Debt Solutions provided us with a copy of his contract with this company. In the agreement, it clearly discloses the fees that the client will be charged. When you add up all the fees, they amount to the company keeping 100% of the client's first monthly payment plus 75% of the client's next 17 monthly payments. These fees are so outrageous that we believe they call the company's legitimacy into question. We cannot see how a company can claim to help people when it is keeping 75% of their monthly payments in fees. In the debt settlement business, this puts their clients at tremendous risk.

Current and former employees of both Clear Blue Debt Solutions and Synergy Debt Group confirmed for us that Tim McCallan is the owner of both companies plus the company that is running things behind the scenes, Wave Group Marketing. 877-559-7690.
Here is What I Found on WAV Services Team
WAV Services Team says it is located at:
Suntree Business Center
3270 Suntree Blvd., Suite 102A
Melbourne, FL 32940
321-600-1339 – Source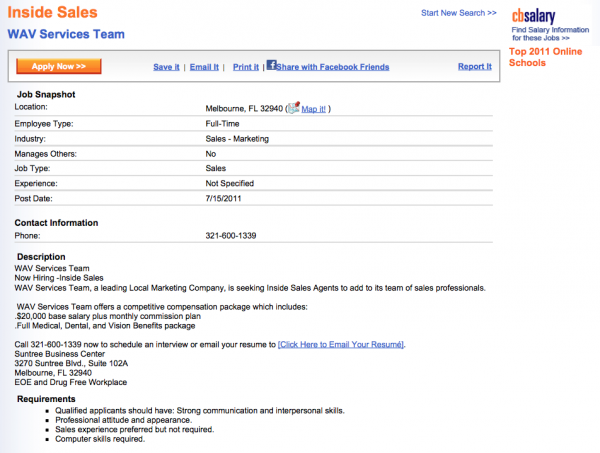 The tipster (send in your tips here) also said:
All of the information that the ex-employee provided to us that we were able to verify checked out. However, I was amazed at how much information current Clear Blue and Synergy employees were willing to share in an attempt to win your confidence and land a sale.

They told me how much money they make. "Counsellors" get $9.62 per hour plus 30% commission if they make their lofty monthly sales targets. One "Counsellor" confided that most of their sales people aren't making their targets right now.
And if you take the base pay in the employment advertisement and divide it by the number of working hours in a year, 2080, you wind up with $9.62 per hour. The facts seem to match.
WAV Services Team was incorporated in Florida on June 23, 2011 and lists Wayne Walton as the president of the company. – Source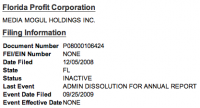 Wayne Walton has been previously linked with Vortex Debt Group and AmeriCorp.
Walton ran another AmeriCorp tied company called Media Mogul at the same address in Melbourne. That company was administratively dissolved because Walton failed to file the necessary annual returns with the State of Florida.
In their corporate filing, WAV Services Team says they are located at: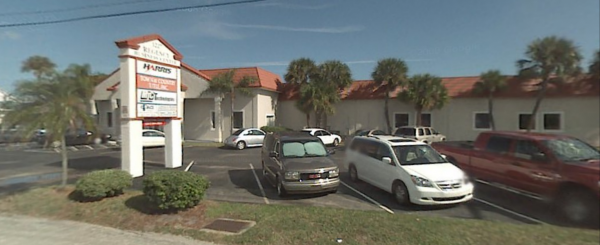 1227 S.Patrick Drive, Suite #617
Satellite Beach FL 32937
You will notice that is an entirely different address than they claim in their employment advertisement. The S. Patrick Drive address is actually that of the Regency Business Center. The Suntree Business Center is the address in Melbourne.
But the one thing the two addresses have in common is they appear to be linked on at least one website as virtual business centers. – Source
The domain identified with this company is wavteam.com but everything about the ownership of this domain is hidden. The name is reported to have been registered on July 11, 2011. – Source
Synergy Debt Group
I've also written about this company before, click here.
Another article written by the same Canadian group titled "Synergy Debt Group is Misleading Canadians with False Information" makes the following allegations which link it to Clear Blue Debt Solutions.
Synergy Debt is only licensed in Ontario. The fact that they claim to be licensed in all 10 provinces but are only licensed in 1 is again a substantial distortion of the truth. If you do not live in Ontario and Synergy Debt tried to sell you one of their Debt Management Programs (their only service), than that was illegal.

Their Employees Falsely Claim that Their Company is Canadian and has an Office in Scarborough, Ontario.

Further proof that Synergy Debt Group Inc. is an American company is drawn from the fact that it is incorporated in the state of Delaware, and the Officer, President, and Director for that company are registered as Wendy Manzo, Tim McCallan's employee.

The Canadian office address that is listed on the Synergy Debt Group's website, synergydebt.ca, is prominently displayed on their client agreements and is quoted by Synergy Debt employees is only a mail box. Synergy Debt Group does not have a real office in Canada, and they never have.

Synergy Debt's client agreement stipulates that their clients must accept the following:

"My first payment to Synergy will not be disbursed to my creditors (page 1)." Synergy will keep 100% of this payment. This practice is unheard of among reputable credit counselling organizations. This does not help the client and instead creates a hardship for them by forcing them to make a double payment on their first month of the program since Synergy's contract states that you must still pay your creditors yourself until the second month.
"The first 90 days of the program . . . is the amount of time my creditors need to process my accounts and apply my benefits (page 1)." This may be true in some exceptional cases, but most of the time, most creditors will respond to a credit counselling agency within approximately 30 days. We would be very concerned if Synergy was waiting until 90 days to break the news to its clients that many of their creditors refused to allow the client's debt to go on the program.
"All fees are non refundable (page 1)." We sincerely hope that Synergy Debt is not holding out for 90 days so that they can keep their client's first three payments. Unfortunately, the ex-employee we spoke with insists that they are.
If a client feels that they have been wronged by the Synergy Debt Group, they will either have to travel to the state of Delaware or hire a lawyer in Delaware to proceed with legal action. Synergy's contract clearly states that, "this agreement shall be governed by the laws of the State of Delaware. Any action to interpret or enforce this agreement shall be brought solely before the courts of that state (page 2)."
It will be interesting to watch how this all unfolds.
I can always use your help. If you have a tip or information you want to share, you can get it to me confidentially if you click here.
Latest posts by Steve Rhode
(see all)