"Dear Steve,
Credit card debt. Company says it can help:
www.protectionthatpays.com
Hi Marcela,
It was a pleasure speaking with you! Below you will find a lot of great information.
About our company: www.protectionthatpays.com
Agent testimonial video: https://vrtmg.financialeduservices.com/video/FESVideoTestimonial.htm (My husband is in this video)
Our website for credit customers: www.united-credit.org (website for credit restoration program)
Website for our Black Card & Protection Plan members: www.fesprotectionplan.com
Chat with you soon…
Tina Oliver~
480-586-7815
Please let me know before i do this.
Marcela"
Dear Marcela,
The first link you sent me led to a video for Financial Education Services.
The video promotes what appears to be a multilevel program involving a debit card.
The Black Card membership program is claimed to earn you money when you and your friends use the membership. The membership claims to be able to improve credit scores.
I then looked at the other links in the email.
financialeduservices.com
fesprotectionplan.com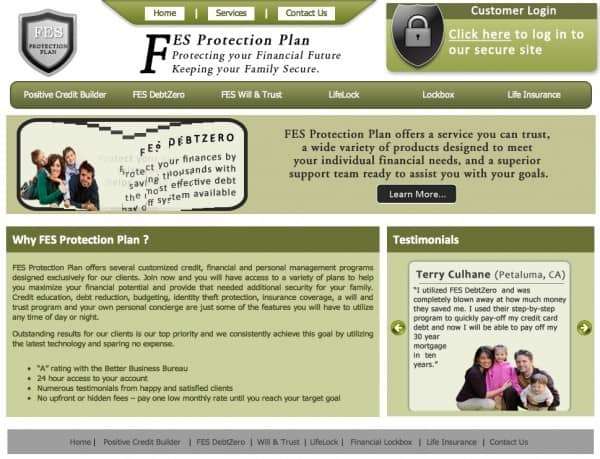 united-credit.org
The agent link led to this video where apparent marketers talk about selling the program to make a lot of money.
The video also talked about having derogatory information removed from a credit report that was apparently accurate. But to use a credit report with accurate but negative information removed you wind up committing credit fraud.
In addition, no company can charge you any fee for credit repair services in advance of actually performing the service otherwise they are in violation of the Credit Repair Organizations Act. Since the company claims to offer a money back guarantee it makes me believe they collect money in advance.
FES offers an exciting business opportunity that allows you to earn income with the convenience of a flexible schedule and very little investment. Be your own boss. Make your own schedule. As an independent sales agent, you choose the time you want to work. Stay at home. Sell online. As a company specializing in financial education, we offer a wide range of services with easy online customer enrollments. Reach limitless success. There is no cap to the amount of money you can earn. – Source
According to server records the following sites are on the same server:
catchmomentum.net
crediteduservices.com
fesconvention.com
fesprotection.com
fesprotectionplan.com
financialeducationservices.com
financialeduservices.com
financialeduservices.net
financialeduservices.org
fixandrepairmycredit.com
mycareplan.com
mycareplanonline.com
mycareplanonline.info
mycareplanonline.net
mycareplanonline.org
mypeaceofmind.info
mypom.info
shopforyfl.com
thedreamteamworldwide.net
unitedcreditcenters.com
youthfinancialliteracy.org
zibocard.com
financialeduservices.biz
united-credit.net
united-credit.org
About Financial Education Services
State of Michigan records say the company is located at 37637 Five Mile Road, #397, Livonia, Michigan 48154
Michael Toloff – President
Gerald Thompson – Secretary
Christopher Toloff – Treasurer
Parimal Naik – Vice President
Jennifer Guest – Director
Parimal Naik – Director
Michael Toloff – Director
Gerald Thompson – Director
Christopher Toloff – Director – Source
In October of 2011 the assumed name of United Credit Education Services was terminated and picked up by the Youth Financial Literacy Foundation.
That organization has the following officers:
Parimal Naik – President
Gerald Thompson – Secretary
Michael Toloff – Treasurer
Parimal Naik – Director
Mike Curry – Director
Michael Toloff – Director
Les Keyshian – Director – Source
In 2010 the company became a non-profit corporation and is a registered IRS approved charity. There is no apparent public filing of their 990 tax return available online yet.
Their stated mission statement has nothing to do with credit repair. Instead it says:
At YFL, we understand the significant role that money and the handling of one's personal finances plays in all of our daily lives. Our goal is to start young people off with the advantage of a sound financial education, giving them the best chance of establishing financial security and stability, affording them the best possible chance to live a productive and positive life.
I'm unclear on how moving United Credit Education Services, which does not appear to be targeted to kids is relevant unless they are trying to go for a perceived exemption from credit repair laws as a non-profit. Others have tried that approach, and failed. They try to claim an exemption by saying "UNITED CREDIT EDUCATION SERVICES IS EXEMPT UNDER THE CREDIT REPAIR ORGANIZATION ACT (15 U.S.C. §§1679, et seq.) AND IS NOT A CREDIT REPAIR ORGANIZATION. ALL SERVICES AND PRODUCTS PURCHASED BY A CONSUMER ARE PERFORMED BY EMPLOYEES OF UNITED CREDIT EDUCATION SERVICES." – Source, Source. Just one problem with that statement, United Credit Education Services is not a company, just an assumed name for the youth foundation.
Their Terms
In reviewing their terms, below, it appears the program does not include all of the services they present, for on monthly fee of either $87 per month or $47 per month.
Bottom Line
I've watched the videos and read through the site and frankly I don't get it. It seems like a big marketing effort to sell you lots of somewhat related stuff. But what's the underlying issue you are trying to address?
Are you looking for a will or a debit card? Are you trying to engage in credit repair or learn more about managing your money?
Please post your responses and follow-up messages to me on this in the comments section below.
Sincerely,

You are not alone. I'm here to help. There is no need to suffer in silence. We can get through this. Tomorrow can be better than today. Don't give up.
Do you have a question you'd like to ask me for free? Go ahead and click here.

Latest posts by Steve Rhode
(see all)