Thanks to an awesome reader, Almost Debt Free in Seattle, I have received the following credit offer to review as part of my I Buy Junk Mail program.
This offer is from Credit One Bank for a Platinum Visa card to build a "solid credit history." These type of major credit cards that report to the credit bureaus are a good tool to help repair your credit and build a stronger credit score for the future.
The offer looks disturbingly similar to a Capital One logo and I'm sure many people will be confused by this. I know I was until deep in the review. That's very concerning. I do know at least one other person that was fooled by the similarity in logo and name as well.
The Envelope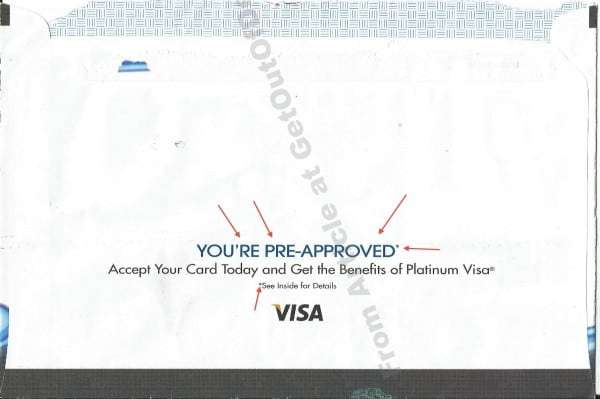 Keep in mind that a message saying you've been "pre-approved" means almost nothing. All that you are really pre-approved for is to receive the offer. The final issuance is going to be dependent on more information.
Cover Letter
There are a few items to pay attention to on the first page. Notice the credit limit is "up to" $1,500 but it could be substantially less.
It is a nice feature the account will receive automatic reviews for credit line increases to have more value as a credit building card. Cars with low credit limits, like less than $750, don't carry as much weight in calculating your credit score.
Being able to set your due date is a nice feature.
The "online monthly credit score" is interesting but you can get your credit score for free from places like CreditKarma.com at anytime.
The back of the cover letter shows the different card designs. It's interesting there is a $6.95 fee to get a card with something other than a generic design, except the black card cost $6.95. It must be designed that way, generic black, to use some perceived juice of the exclusive American Express black card. Otherwise, what is the value in a black generic card design.
Application
Nothing remarkable, just more of the same information from the cover letter.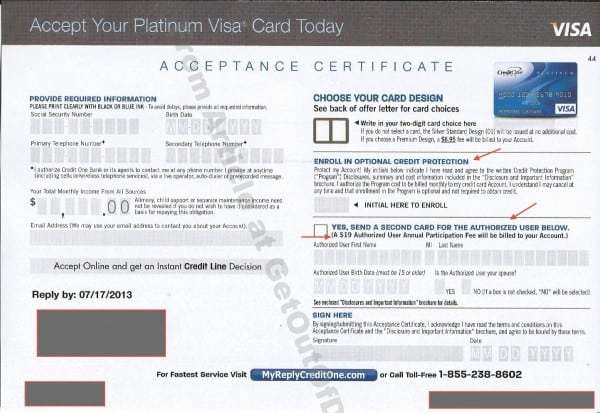 This is the guts to accept the card offer if you want to return it by mail. However, you can also apply online for the card as well.
The card offer credit protection, which I'll cover in more detail when I get to the terms and the ability to add someone as an authorized user for an annual $19 fee. An authorized user can use the card but has no liability for repayment, the applicant has all the liability. Be very careful who you allow to be an authorized user.
Disclosures
Here we learn more information about the credit protection program and begin to see some of the limitations of the protection. The example shown for a $450 balance shows us the actual cost would be $51.84 per year.
Coverage is not available for 30 days after enrollment, if you work less than 20 hours a week, no protection for the authorized user and joint cardholder, and if the credit protection kicks in you will not be able to use the card.
Now here we find some very important details. Of particular interest is the statement interest will be charged from the posting date on your account. While the therm is not defined I take this to mean that unlike many credit cards where you are not charged interest unless you carry a balance after the minimum payment is made, this card will charge interest as soon as the transaction is charged to your account. In that case the amount of interest you will pay is a critically important feature since use of the card guarantees you will pay some interest.
The interest rate is 23.90% and it is variable. It's calculated by adding 20.65% to the current prime rate. The rate can go up to a maximum of 29.90%.
The card charges an annual rate of $99, except for the first year where you will pay $75. The annual rate will be billed monthly at $8.25 and I would not be surprised if users would have to also pay 23.90% interest on the $8.25 monthly fee.
Late and returned payments will be charged $35 each.
This is a slightly different message than we got on the cover letter. You will notice the cover letter very specifically says there is "No Enrollment Fee and No Over Limit fees" but there is an annual fee and late and returned payment fees. Semantics or just cleaver marketing?
Some very important information is buried all the way back here.
We learn:
the credit limit may be as low as $300;
the agreement is between Credit One Bank in Nevada;
the agreement may be changed or amended at any time by Credit One Bank;
the card may not be used for business purposes;
you will be subject to binding arbitration which will limit your access to sue the bank;
residents of Wisconsin are not eligible;
the bank may call you on your cell phone and send you text messages;
while the access to your credit score is promoted as a benefit, it can take up to 60 days for your score to be available online and that feature can be cancelled without notice; and,
the marketing material says you can pick your due date but you can only do so after the initial billing period.
The credit protection coverage is explained in a bit further detail but full terms will not be sent until you apply for the card and you receive it. However we do learn:
the credit protection only covers the minimum monthly payment;
the minimum payments may be cancelled for only up to six months in the case of involuntary unemployed (fired or let go) or disabled;
the credit protection program can be terminated by the bank at any time without notice; and,
if your minimum monthly payments is being made by the credit protection program, finance charges will still accrue on the unpaid balances.
Return Envelope
If you send in the physical application it is sent to El Paso, Texas. The mailing permit is 21 from Henderson, Nevada.
Sincerely,

You are not alone. I'm here to help. There is no need to suffer in silence. We can get through this. Tomorrow can be better than today. Don't give up.
Do you have a question you'd like to ask me for free? Go ahead and click here.
This offer was able to be reviewed because a kind reader sent it in via my I Buy Junk Mail program.

If you receive a credit or debt relief offer in the mail, do some good and let me pay you for it. Click here.
Want to See More Mailers?
Want to see more mailers I've reviewed as part of this program? Click Here.

Latest posts by Steve Rhode
(see all)