Recently a debt relief insider and tipster (send in your tips here) sent me documents that were being circulated by Debt Defense Services. I've written about them before, see this.
This time they are trying to recruit people by telling them how debt settlement companies switch to selling their debt relief services once they hear about what they have to offer.
Really? I find it hard to believe any respectable company would leap on the debt invalidation bandwagon. Hasn't that approach been discredited time and time again over the years? But just recently I wrote about American Credit Shield and I've got another to write about soon as well. It seems some think this debt invalidation thing will be the next greatest thing.
I asked Michael Bovee from Consumer Recovery Network to look at the same documents I had received and offer his opinion about what was being offered as well. This article will be a bit unusual in that it will contain two points of view as we each offer our opinions and observations about the DDS material.
My Observations
The Slides
The next slide says DDS offers a "consumer advocate program" which includes debt education. So as an advocate I wonder if they share with the consumer the fact many of these things can be done for free and offer up their performance data from which consumers can make an informed and educated decision.
"Our mission is to protect consumer's rights, improve their credit, and help them to avoid harm due to fraudulent or unfair financial practices."
So does that mean they first direct consumers to evaluate bankruptcy to protect their rights and don;t charge an advance fee either for the debt relief program or credit repair services? Spoiler alert: what do you think?
Anyone think the math would support a debt invalidation or challenge approach is going to support this kind of program?
Nothing new here, cease & desist letters, also know as an invitation to sue and a demand to validate the debt, which Jared Strauss has said in the past can lead to being sued faster.
Validation has a role in trying to get supporting documentation on debts you think are not legitimate but blindly demanding validation on a debt you believe is accurate can lead to negative action faster.
But for me here is the crux of the problem with this approach, it is not a comprehensive solution to deal with all debts of a consumers. DDS says by their own slide that a debt that might be disputed or pushed can "move on" for another pass.
Unlike a legal option like bankruptcy that can address the consumers debt and discharge it all in about 90 days for $2,000 or less, the DDS approach is much more expensive, will take longer and will not stop all activity on the debt. It does not discharge the debt.
DDS says they use the following laws to deal with consumer debt, Credit Card Act of 2009, Fair Debt Collection Practices Act, Unfair and Deceptive Practices Act, Truth in Lending Act, Federal Fair Credit Reporting Act, Federal Fail Billing Act, Foreign Corrupt Practices Act, Equal Credit Opportunity Act, Telephone Consumer Protection Act, and Right to Financial Privacy Act.
How they say it works.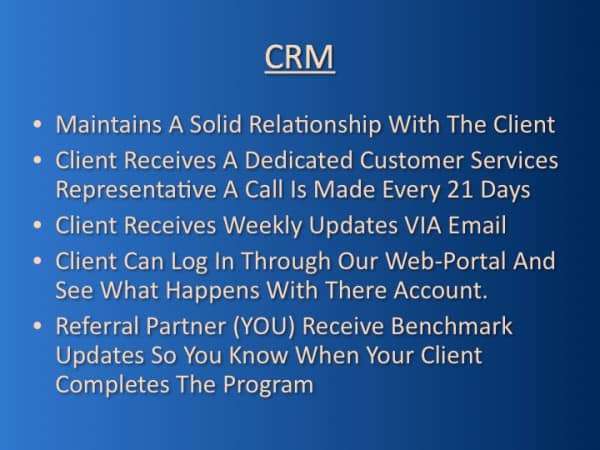 Looks like an affiliate pitch directed at those that offer some type of financing or maybe real estate agents. Seems to make a claim about credit scores.
They offer the following examples, but none of them are from original creditors, just collectors.
Costs
The cost of this program, when compared to solutions like bankruptcy, is out of sight.
The DDS material comes with a nifty chart to show affiliates how much money they can make on a consumer with $30,000 in debt.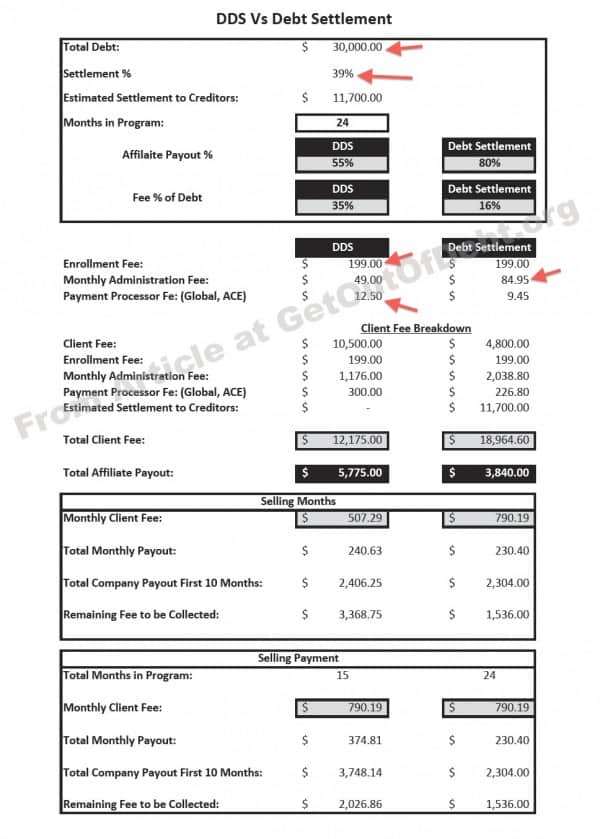 It appears DDS claims the fee for debt settlement is 16% and the monthly fee charged is $84.95. But here is where it gets problematic for me.
It seems the enrollment fee would create an issue with advance fee prohibitions, I can't figure out why the processor fee is higher than for debt settlement, and on $30,000 of debt the client fee is said to be $12,175. But again, why not just consider bankruptcy first and eliminate all the debt quickly for less than $2,000?
The other issue is the length of time in the program. If there is nothing to prevent the debt for being moved back and forth, how can any statement be made about how the debt is going to be completely resolved in 24 months?
I don't see how it can be.
Michael Bovee's Observations and Opinion
Jack and the Magic Debt Elimination Letter
When Steve asked me to collaborate on an article for this site, which he has never done before, I thought it must be for an exciting topic. But as I dug into the details it turned out to be more like "same as it ever was".
My first article published to this site was 4 years ago. In it, I focused on how debt relief is sold by marketing call centers and independent affiliates. People motivated by commissioned sales shaped an entire industry, and not in a good way.
Debt Defense Services looks to me to be offering sales affiliates big money to sell consumers struggling with credit card debt magic beans. The fable of paying someone money for a series of magic letters that will somehow make your debt disappear is going on 20 years old. In that time there have been different variations to the spells incantations. Some of them are even fairly convincing when woven together with well established consumer protection laws. But the song remains the same.
When you take the motivation to sell something for commissions, and tie it to getting people in debt emotionally hopped up about banks and debt collectors being the problem, beans or no beans, there is money to be made. And that is what I see with DDS promoting affiliates the opportunity to generate large commissions.
First, what is it DDS is offering to consumers that will eliminate their debt?
"Initial package to debt collector demands cease and desist of collection activities". Sending a debt collector a cease communication letter when you can still be sued legitimately for the debt (your states statute of limitations has not expired), will often leave no other form of communication to collect but through the courts. While it is your right to instruct a debt collector to cease communications, it is not something to be done indiscriminately.
"The debt collector also must fill out a notice & demand of validation of debt as well as additional legal documents regarding the account". Ummm… no they must not. Debt validation is also a right clearly outlined in the FDCPA (Fair Debt Collection Practices Act). You can certainly seek clarity of the debt a collector is trying to get you to pay. But a debt collector is not required to fill out any "notice & demand". This is where we start getting into the magic beans stuff. I would be curious to see what "additional legal documents" are supposed to be filled out by a debt collector?
"In step 2 of the process, a letter on non-response is sent out that explains to the collection agency that they did not respond or responded incorrectly to out legally binding request". What the…. More beans. Requesting debt validation is a right, but a debt collector receiving a request for validation is not "legally bound" to respond. They may not respond at all, and many don't. But your legitimate debt does not go away, nor is anything resolved.
There is more to that sales affiliate slide show, but I will stop here. Hopefully Steve's portion of this collaborative article will point out that the DDS debt relief process eliminates nothing. It just offers people an opportunity to avoid their debts in the hopes that the magic letters will somehow shield them from collections. I would suggest someone at DDS take a look at the effort to black out identifiers in those collection letters that were used as examples in the slide show. The text underneath the sharpie shows through.
MAKE BIG MONEY! SELL MY STUFF!
In the DDS Vs Debt Settlement document it becomes clear how much can be made by affiliates marketing magic debt elimination. In an attempt to compete with the revenue that can be earned from referring out to companies settling debt, DDS has structured payouts in a manner that could provide a better return. This is why I pointed out my first article written for this site above. Everything I pointed out in The Gist, the Juice, and the Lies – applies here, but perhaps even more so. Reaching an agreement and paying a settlement at least resolves each debt. DDS appears to resolve nothing.
The comparison DDS made is problematic for many reasons. The fee schedule for the settlement example used could only contemplate a debt relief company operating illegally in today's debt relief regulatory climate, unless the company wholly does face to face meetings, or is a law firm engaged in highly suspect fee sharing. The comparison would be pretty fair from a few years ago though.
DDS affiliates will be paid out of a pool of fees the consumer is charged. One of the fees outlined is 35% of the debt. But what is the end goal for the consumer in return for the fee? I can only conclude the product to be magic letters that resolve nothing, and a vague assurance that you are only at a 2% risk of being sued. Is there more?
People can hit the internet and get loopy advice to dodge a debt for free.
You can get help from an experienced consumer attorney if your rights have been violated. If an FDCPA claim can be made, the most experienced attorneys with this type of practice take the cases on contingency – no retainer/fee.
I cannot think of a worse climate to be promoting some alternative debt resolution program like this.
I read through other posts on this site that DDS has been mentioned. I see in the comments an appeal to Steve to reach out and have a conversation about the program. I am available to anyone at DDS should you want to discuss any of what I wrote here. Maybe it would be cool to do a video interview/hangout for this site.
Michael Bovee founded CRN, a unique company offering debt negotiation education and services, in 2004. He recently published CRN's free online debt relief program as a tool to assist you with making informed decisions about dealing with problem debt, while keeping an eye on your future credit needs and goals. Bovee has been contributing articles and free reader feedback on this site for several years.

Michael is a debt industry professional who has volunteered his time to help answer reader questions.
Conclusion
Well there you go. It seems we both share a common opinion of "what's the point." And I'm still left wondering how the consumer can be put first by this approach when there appear to be less expensive and far more protective program available which provide legal protection rather than just tricks.
Sincerely,
You are not alone. I'm here to help. There is no need to suffer in silence. We can get through this. Tomorrow can be better than today. Don't give up.
Do you have a question you'd like to ask me for free? Go ahead and click here.
Latest posts by Steve Rhode
(see all)