A reader sent in an email and said a Tim Daniels was running Student Help Network at IBRPlan.com.
So the first thought to come to mind was, "Who the hell is Tim Daniels?"
Figuring the reader sent me the email I thought it must be about someone I've written about before. Otherwise, the email really made no sense, at all.
A quick search on the site found a 2012 article titled "Everest Debt Solutions, FDN Solutions, and Tim Daniels Settle With FTC."
What is amazing in the debt relief vertical is how just a simple question turns into a pit of quicksand.
I did what any person would do and went to IBRPlan.com to see what the site was about and look for some contact information to see if Tim Daniels was indeed behind this site and find out if it was the same Time Daniels who was associated with the FTC settlement.
Now at this point, to the average person, it seems like this is a 30 second story. So imagine my surprise when I was not able to get an answer.
The Student Help Network website at IBRPlan.com only has one contact form I found, I filed it out and asked the question. Instead of hearing from someone at Student Help Network I got a response from Andrew Josuweit at Student Loan Hero.
Andrew was helpful in giving me an email address for a Tim at IBRPlan.com but did not answer the questions about if it was the same Tim Daniels associated with Everest Debt Solutions or where the corporate office of Student Help Network was located. It really doesn't seem like a tough question. Just the state would be fine.
It's when people just can't answer a simple question that it makes me have to go back and dig a little deeper and typically that's when more questions are raised.
According to public records, IBRPlan.com is registered to a Timothy Daniels in Sunnyvale, California.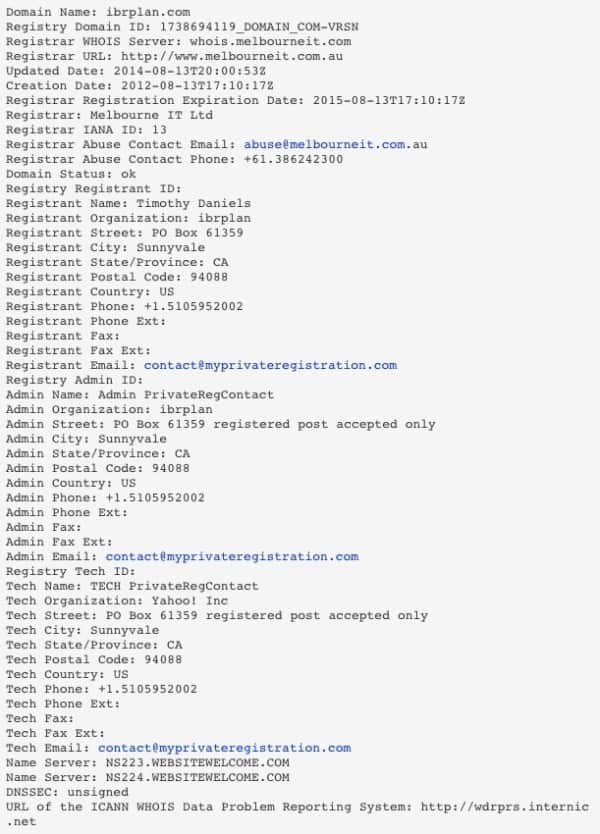 And StudentLoanHero.com is registered to a San Diego address. Andrew said, "The Student Loan Hero physical office is located in New York City."
Unfortunately the State of New York has no record of a company being registered under the name Student Loan Hero.
Neither does the State of California.
So I turned to what little information the IBRPlan.com site provides. The privacy policy on the site says things like "How IBR Plan Uses Personal Information Collected" but the contact information in the privacy policy says info@studenthelpnetwork.com. – Source
StudentHelpNetwork.com is registered to a Timothy Daniels with Alumni Loan Protection in Sunnyvale, CA as well and has a different website. – Source
The privacy policy also says Student Help Network is a South Dakota Corporation at 9145 Narcoossee Road, Suite 106-182, Orlando, Florida 32827.
According to the State of South Dakota, Student Help Network, LLC was incorporated on July 31, 2012 but is in a cancellation pending status.
Since the company is in a cancellation stage I went to see if Florida could shed any additional light on the issue.
The State of Florida had no record of the company.
According to web search, the address given is actually a mailbox place called Goin' Postal. – Source
I emailed a Tim Daniels at the email address Andrew Josuweit gave me. At the time of this publication I have not heard anything back.
But I did finally get the question answered I believe. According to the privacy policy of StudentHelpNetwork.com, Timothy P. Daniels is the owner and provides a Linkedin link to his profile which says he was with American Premier Servicing, Everest Debt Solutions, FDN Solutions, American Financial Service, and The Credit Exchange. – Source
I have no idea why Andrew Josuweit just could not have answered my question originally so I didn't have to go through all of that.
And just to be clear, I was just trying to deal with the readers statement, and I have not even taken a look at the services any of these companies offer.
That will have to wait for another day.
If you have a credit or debt question you'd like to ask just use the online form. I'm happy to help you totally for free.
Latest posts by Steve Rhode
(see all)