A reader submitted a tip regarding their experience with Titan Prep.
In taking a quick look around I noticed a very odd situation. At least I think it's odd/interesting.
TitanPrep says they provide "personalized solutions for your document preparation needs in a large variety of topics." It seems part of those services is regarding assisting with federal student loan advice. At least that's what the reader was unhappy with. And a look at their Yelp listing did not show any happy customer reviews about any other services other than student loan assistance.
But here is the odd part. Equitable Acceptance says they are just a financing company for consumers who purchase student loan assistance, and other services, from outside companies.
So why is Equitable Acceptance hosting a page with portal information for TitanPrep to allow consumers to continue their student loan assistance services?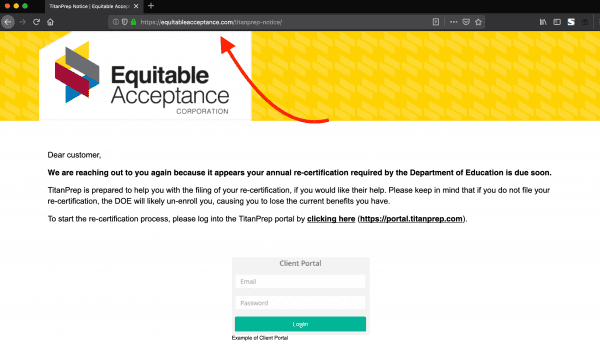 Then there is this interesting statement from TitanPrep in response to a consumer complaint on the BBB site.
TitanPrep allegedly said, "******* was enrolled with a previous company that we have no affiliation with. Which ever company she enrolled with in the past is where this complaint should be filed. TitanPrep has no agreement or contract with this customer. Equitable Acceptance is the finance company who she has a loan with that was provided to her through the original enrollment company that she signed up with. That company is no longer in business. Equitable Acceptance sent us a case file with her name, phone number, email, and address. We have no information on her original paperwork that was filed or what she signed up for originally. We are a customer service company that was contacted by Equitable to help them with their clients that needed to be serviced." – Source
So one interpretation of this might be Equitable Acceptance is now sending consumers to one or more other clients of theirs to provide help for the original student loan assistance company that has vanished.
This situation isn't evil, illegal, or sinister. It just seems like a blurring of the line for Equitable to take an apparent more advanced role in steering consumers from failed clients to other companies and even hosting a page on their website for TitanPrep.

Latest posts by Steve Rhode
(see all)