Let's be honest, for many of us, keeping track of bills and personal finances is a big pain in the butt. I know I personally hate to deal with all the paperwork that come with keeping track of things. For me, it's annoying and boring.
But recently I found a small bit of technology that I wanted to checkout that looked like it would make it easy to lazily file my receipts and important personal finance paperwork away and get them back easily when I need them. And trust me, the one thing you will want is the easy recall of those receipts in case you are ever audited by the IRS.
Stupid easy and lazy way to keep track of personal finance stuff.

– (

Click to Tweet

)
I speak from experience. I lived through an IRS audit, and while the outcome was in my favor and I got money back, being able to lay my hands on the bills and receipts the IRS wanted was key to my success.
If I'd only had the Doxie One scanner on my desk back then it would have made things so much easier and much quicker to locate all that information.
The key to organizing your bills you've paid and receipts for those that aren't naturally motivated to do that seems to be to make the process as stupid easy as it can be.
The more complicated we make the organizational process, the less lazy people like me are likely to keep up with it. The key is to find a solution that balances both smart record and lazy storage.
I believe there are other devices out there that allow you to scan stuff and then do something automagical with the scans, like auto-populate some tracking program. That's great but that would also require you to setup some program and deal with that. No, I wanted a ridiculously easy solution and I think I found what works well for me.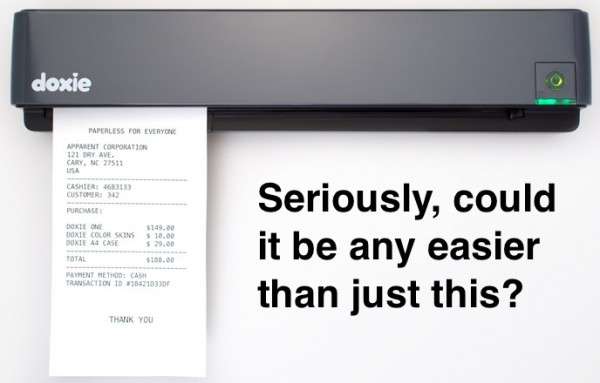 Scans are stored on one of those small digital SD memory cards in the device itself so it does not need to be connected to any computer to use.
You can get bonus points for being extra lazy and just leave the scanned images on the internal card or you can up your game and connect the scanner to your iPad or computer and suck the images in that way. Personally, for me, the scan it now and deal with it later approach works best.
The price tag for this little scanner is easy to swallow and you won't need anything to use the device that doesn't come in the box or free to download. The software to run the Doxie One is available in both Mac and Windows formats. Download it from the GetDoxie.com site.
For those that might want to peruse the quick start guide, it's right here. But I tried to set the thing up without having to result to reading the guide and was successful, for the most part. I did have to figure out that paper needs to be aligned with the left side and the web address to download the software. Minor points.
So Here is How It Works Best for Me
Sometimes the secret to success is simplicity. Here is all I need to do to keep track of my important personal finance stuff using this affordable and easy to operate device.
Put scanner on something that resembles a flat surface.
Feed receipts, invoices, statements and bills through scanner when I have them in my hand after I first walk into the house.
The key to getting control over your finances is not to make it harder or change your life, it's finding a way that works best for the way you already live.
You can see how this little device would fit into a lazy routine of building the best budget to fit your life.
In the six minute podcast below I talk about how tracking your expenses is the critical first step towards figuring out where your money goes so you can build the best budget for you. Listen to podcast and you'll see how perfectly this approach can work for you.
To implement the Doxie One scanner into that simple best budget process I talk about in the podcast, you could just put this small scanner on a kitchen counter or wherever you drop your keys when you come into the house. That's where I have mine. Remember, it does not need to be connected to a computer to use.
You and your partner, spouse or significant other can then have easy access to scan receipts and information about spending that day. Then at the end of the month the budgeter in the house can import the scanned images and take a look at where the money really went and if you want to adjust your budget for the next month.
The Doxie One scanner is a small footprint way to make collecting the boring money information a bit more fun for those of us that hate the process but love technology.
For more information about the Doxie One scanner and where you can get one, click here.
In the interest of total disclosure, I asked for a review unit to try out and test. I received no compensation for this review. They don't know it yet but I love this thing so much, I'm keeping it.
Latest posts by Steve Rhode
(see all)