The following post was written and contributed by someone familiar with the operation you will read about below. It is third-party supplied content.

At the bottom of the story is a section with the results of the facts I was able to independently check.
By Anonymous
On May 23, 2013 GetOutofDebt.org first reported a story titled "World Law Debt, Global Client Solutions and Others Sued in NC. TRO".
Here is a breakdown of another debt settlement company operating a "classic advance fee scam for debt settlement."
GP Enterprises, (GPE) aka Legal Advocates is located at 4241 Jutland Drive, Suite 304, San Diego, California 92117. Neil Billock operates as business owner and president of GPE. Legal Advocates operates a call center and employs "enrollment advisors", which some have little or no experience in the debt settlement industry.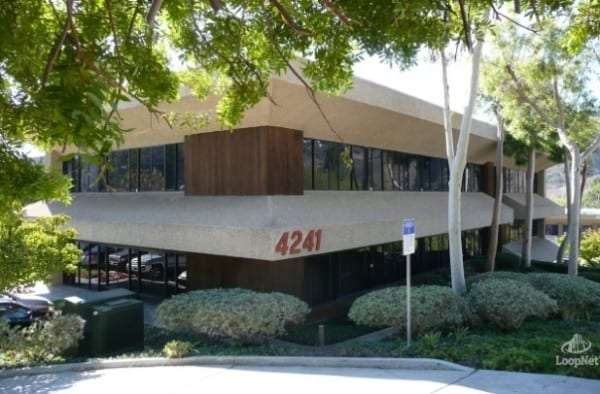 It seems their mission is to enroll distressed consumers with their unsecured credit card debts into a debt settlement program ​managed​ by World Law Group aka World Law Direct (WLG) and banking through Global Client Solutions (GCS).
Their lead generator is Vertical Direct Marketing Group (VDMG) www.vertdirect.com and​ also located at 4241 Jutland Drive, Suite 304, San Diego, California 92117. Their physical address and suite are the same as GPE. However they operate in two office locations, across from each other in the same building.
Ryan Mack, CEO/President of VDMG, runs a business with Neil Billock. These two are the brains and operations. VDMG has been been using their relationship with one of the ​major credit bureaus. Instead of using the sensitive data intended for marketing purposes solely in the mortgage industry, I think they are "cherry picking" for distressed consumers that were fallen behind on their credit card payments.
Targeting consumers with at least $20k minimum in unsecured credit card debts, their creditors are recently reporting on their credit reports for not meeting their minimum payment obligation for at least 2-3 months.
These mailers, very similar to the ones that were used in the North Carolina story, are being sent out to these distressed consumers. These mailers don't show any return address, but are instructed to contact Legal Advocates at 888-997-5461 and mention their "​File or ​Client ID Number".
Feel free to research Legal Advocates and their business number 888-997-5461, which you'll notice no indication of any ​listing. ​W​hen​ callers request an exact address or location, enrollment advisors are instructed to dodge their questions with misleading information. Often times callers question how this information was even collected in the first place. Additionally some are even puzzled when told their creditors requested they contact Legal Advocates directly for help.​
Calls were recorded.
The way the marketing works is when the distressed consumers receives their notification ​via mail, there is a section of an "X amount" of ​their unsecured ​credit card debt that has been reported from the credit bureaus. Below that amount, a calculated reduction (at .32 cents on the dollar) amount shown in "red ink" on a debt settlement averaged amount.
For instance, let's say Joe Smith owes $20,000 according to the credit reporting agencies. However $6,400 would reflect what their unsecured credit cards debt will be reduced to. Once he phones in, the well-drafted script is read and 3 options are given on each call. Eventually a formula calculated at a profit margin at 30% or more, added onto the reduced debt average is quoted within 3 to 5 year period.
Keep in mind too, enrollment advisors were/are also misinforming that the average debt settlement industry are now reducing settlement offers as low as .26 cents on the dollar. So that $20,000 that Joe Smith was eager about, would be even told it would be settled for $5,200 or even less.
Compared with figures of the caller committing to a 5 year Debt Management Program (DMP) along with the current rate they're headed (20+ years for minimum payments), it becomes a no-brainer to select the debt settlement option. Remember we are talking about distressed consumers that are stuck in a financial hardship.
In most cases, these leads generated also happen to have mortgages. With being told if they don't act upon without getting legal representation, they risk having property liens. Others are better off to possibly explore bankruptcy simply because they are insolvent and don't have any assets to declare. Any responsible financial advisor would point out these to the right direction, but instead are conned into believing debt settlement are ​their only option and hope.​
Here are the 3 options that Legal Advocates provide:
Option #1: Under a Debt Management Program (DMP) managed by a 501c 3 non-profit agency, they are looking at a five year repayment plan. If the caller is highly interested with the estimated quote provided (keep in mind normally $50-$100 less of the amount of their current monthly credit card payments), then a live transfer call will be placed to DebtWave (www.debtwave business number 888-686-4040, is located at 8665 Gibbs Drive, San Diego, California 92123). When transferring calls to Debtwave, all are instructed to identify the company as "GPE." Never would the name Legal Advocates be used.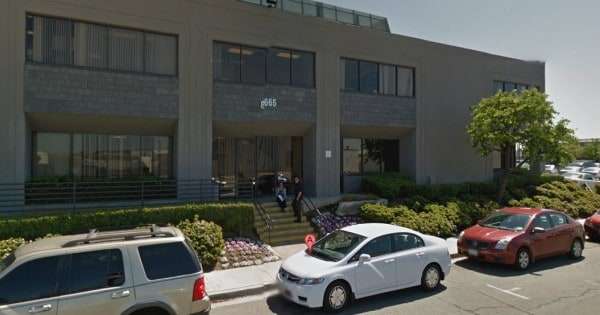 Callers were given the BBB link to the World Law Debt A rating at one BBB offices and not the lower ratings with others.
Option #2: The debt settlement quotation is given, again at the .32 cents per dollar figure. Joe Smith loves this option because he is told that he will be out of debt within a 3 year period or less. If they cannot afford this payment, which is always less than quote #1, they are given a choice to commit up to a five year period. The payments become less over time, but still committed to the profit margin at 30% or more.
Option #3: Bankruptcy. If they are interested, then a transfer call will be placed to a San Diego ​hotline ​law firm. When transferring to the bankruptcy hotline, all are instructed to identify the company as "GP Funding." Never would the name Legal Advocates be used.
Once the caller feels he or she would like to enroll with the debt settlement program, ​a​ll enrollment paperwork ​will be sent electronically via DocuSigns. A valid email is required along with banking information. The enrollment advisor requests that ​they​ be in front of a computer. ​If that request is not meet,​ they will not send out any enrollment forms​, which they don't allow any time to review the agreement forms.
The new client is walked through 12-14 pages of a time sensitive ​ e-agreement form​. Included is the verbiage that they become a client of WLG, which their first payment includes​ $199 upfront for legal representation: 1 federal attorney, ​2​ local attorneys and a legal assist. Part of the attorney model package is that they open a client security fund with GCS account for $5. Every month GCS charges $9.45 per to maintain their account​, which Legal Advocates claim makes them now FDIC insured. Additionally, $​79 is ​also ​collected ​for attorney fees which they are surrendering a total of $​88.45 ​monthly just in fees which are taken out of every payment.
When new clients request which lawyer will contact ​them​, they are advised your legal assistant will contact you within 7 business days with that information. Some demand which particular lawyer will represent them. A simple local attorney bar search within their local area will be submitted to them at their request, however they are instructed not to contact any of them.​ However within 30 days an appointed lawyer will go over ​their​ financial situation, debt analysis and employment situation.
​Under their debt settlement program, they are instructed to not answer any more phone calls from creditors​ and immediately stop any future payments to them. A letter of ​legal representation will ​be submitted on their behalf, ​requesting that the creditors provide​ proof that the debt is theirs​. This is used as a stall tactic​, which Legal Advocates claim will help buy them time to pay into their client security funds.
​Take a look at this website, which you clearly see the fundraiser participants are Ryan (Mack), Neil (Billcok), Greg and Cort. Continue reading the comments below and you cannot help notice that World Law Debt commented and donated $1,000 for The Lucky Duck Foundation. You cannot deny the fact that all 3 companies are working together in this elaborated ​advanced fee scam.
On May 17, 2013 ​VDMG​ had a scheduled audit with one of the major credit bureaus. Both companies were on high alert with their employees. Since VDMG and GPE share the same kitchen within GPE's offices, all VDMG employees were directed not to enter GPE during the audit period.
All GPE employees were instructed to report to work late that morning. Upon returning back to work, GPE removed their "Legal Advocates" door sign out front and replaced it with a "GP Enterprises" plaque. In addition, all personal belongings and work related material were removed from every workstation and placed hidden away in their cabinets.
It has been reported with numerous enrollment advisors that GPE was well aware of the recent WLD and their misrepresentation of clients in North Carolina. Immediately all working leads in the state of North Carolina were transferred internally to other enrollment advisors, that are trained to sell the debt settlement services under the non-attorney model debt settlement program with Brite Solutions (www.britesolutionsinc.com business number 877-302-7483, which are located at 3003 Greene St, Hollywood, Florida 33020).
As a precaution to avoid a continued affiliation with WLG, GPE decided to cease assisting any new enrollments under the attorney model based program. I assume Neil Billock and Ryan Mack came to the conclusion to terminate using the attorney based debt settlement program and focus with Brite Solutions. GPE also laid off over 80% of their existing enrollment advisors and they are currently seeking other avenues to explore the possibility with working again as an affiliate with other debt settlement programs.
Feel free to compare and contrast the "World Law Debt, Global Client Solutions and Others Sued in NC. TRO" story. Enrollment companies are highly aware of the quick "classic advance fee scam for debt settlement". Without any federal, state or local regulators monitoring these debt settlement programs, thousands of clients are perhaps being misrepresented that they are paying for legal representation when in my opinion WLD is simply in the business to earn quick profits and harming distressed consumers in setting them up for potential worse situations.
---
Since the above is third-party submitted content, if anyone spots an error they should immediately report it online here.
My Fact Checking
I wanted to make sure those allegations which could be publicly confirmed, were verified. What you find below is the result of my research and fact checking.
Vertical Direct Marketing Group
Vertical Direct Marketing Group says they are located at 4241 Jutland Dr. Ste. 304, San Diego, CA 92117 – Source
The company states it is involved in marketing financial services and even provides documentation and samples of their work and capabilities.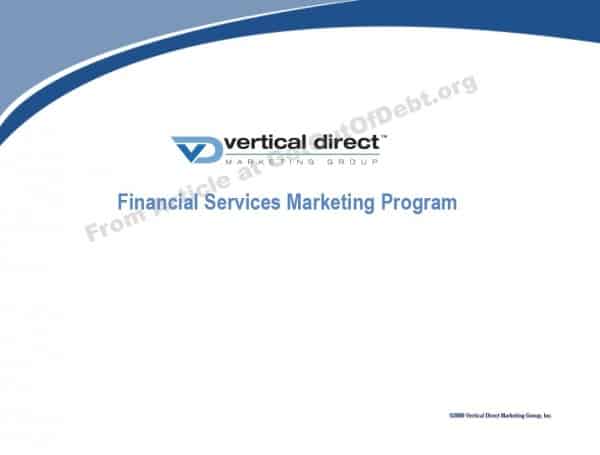 They say they provide a program called Response Pro. "The Complete Response Pro™ Marketing & Management System controls and delivers client marketing management, branding compliance,
purchases, shipping, fulfillment, quality control and effective business management for any industry that is capable of handling an effective marketing lead-generation program nationwide.
Complete Response Pro™ Includes:
1. Tier 1 Credit Data (the most effective way to reach your target EVERY TIME)
2. Direct Response Marketing Solutions
3. Internet Lead Capture Landing Page and Forward to your existing website
4. Telecapture Call Tracking & Online Training System" – Source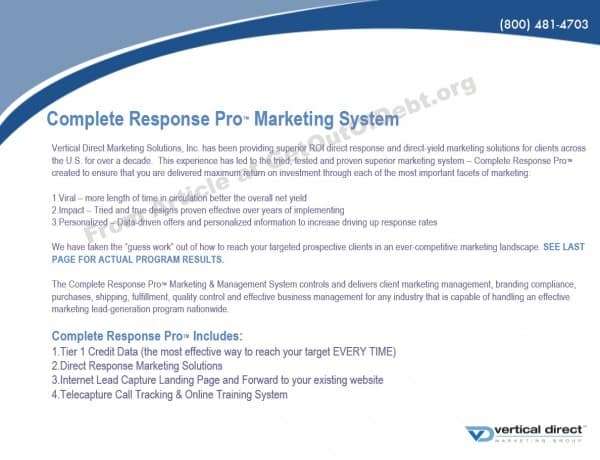 They state they have access to data "direct from Equifax and Experian." And, "Vertical Direct is one of the few companies in the U.S. that has a license to pull Tier 1 Daily Feed Credit Data. What does this mean? When you are actively handling a case or file you can be assured that they are qualified to take advantage of your offer – each and every time."
The information they say they can pull is geared more towards the mortgage market as the tipster (send in your tips here) alleged in their contributed article. But they do say they also get "Days late, credit cards balance, revolving debt."
This next page is disturbing for me. It appears they have some relation to mailer for the "National Debt Relief Initiative" which I have been very critical of in the past.
If you look closely at the sample mailer Vertical Direct presentation you can see it is a piece for debt settlement marketing and provides a statement of debt reduction.
While I can't put my finger on it right now, I've seen landings pages before that look like the kind Vertical Direct says they offer.
This sample page looks as if it is geared more toward mortgage modification marketing leads. But notice how the marketing material says the header is designed to be "Official looking interface to lend credibility and help consumer feel at ease."
The next page talks about the Telecapture Response Tracking and call recording.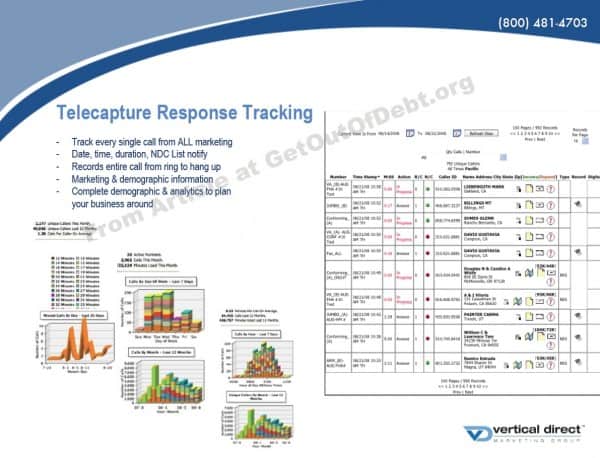 Here are the last two pages of the presentation.
Vertical direct does say they have experience in marketing debt relief programs.
"Here are some of our results where performance counts!
FHA Program, 2005
Reverse Mortgage Program, 2005
ARM to Fixed Program, 2006
Home Equity Conversion, 2007
Retail Outlet Direct Marketing & Online Marketing Program, 2007
Franchise Marketing Program, 2007
FHA Program, 2008
Loan Modification Program, 2008
Debt Settlement Program, 2008
Reverse Mortgage Program, 2008" – Source
VDMG also says again they have experience in providing marketing for people with, "High Utilization of Revolving Credit," "Debt Consolidation," and "Data is gathered from multiple sources (including credit bureaus)." – Source
Vertical Direct says they are also located at:
Vertical Direct Marketing
1540 6th Ave San Diego, CA 92101
Office: (858) 750-3184
Fax: (619) 923-2170 – Source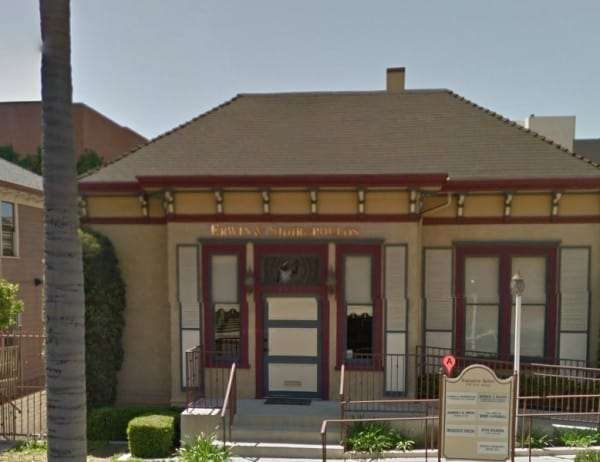 A closer inspection of the sign out front shows it as an "executive suites" building but did not list Vertical Direct Marketing at the time of the photograph.
According the the State of California the company is actually located at:
1814 Centennial Way
Escondido, California 92026
That is also the address listed for other companies as well:
Omega Advantage Solutions – Source
Advant Consulting Group, LLC – Source
American Credit Crunchers, LLC – Source
Armstrong Consulting, LLC – Source
Av-Ators, Inc. – Source
Avb Enterprises, LLC – Source
Bram Co., LLC – Source
Debtzend, Inc. – Source
Ebeeze, LLC – Source
Ec Lending, LLC – Source
Ellis Taylor Holdings, LLC – Source
Expedited Lending, LLC – Source
Gallerie, LLC, The – Source
Infinity Collections, LLC – Source
International Design Textiles, Inc. – Source
Jacon Global, Inc. – Source
Kcf Worldwide, LLC – Source
Lds Management, LLC – Source
Legal Ingenuity, Inc. – Source
McH Worldwide, LLC – Source
Michael Martinez Consulting, LLC – Source
M&M Alliance Products, Inc. – Source
Never Fatherless Foundation – Source
Now There's Hope, Inc. – Source
Omega Advantage Solutions, Inc. – Source
Pacific Titan Consulting, LLC – Source
Regal Executive Management, LLC – Source
Retail Coupon, Inc. – Source
Rpm Consultants, Inc. – Source
Sanders, Larios, Larios & Luevanos, LLC – Source
Sanders Management Inc – Source
Sansone Pino & Associates Bookkeeping, LLC – Source
Segway Technology Solutions, LLC – Source
Simdog, Inc. – Source
Sleepwell Enterprises, Inc. – Source
Southern California Recovery Agency, LLC – Source
Sun Debt Collectors, LLC – Source
Thaler Design, LLC – Source
Travel Masters, LLC – Source
Varleco, LLC – Source
VB Herbs, LLC – Source
Vertical Direct Marketing Group, LLC – Source
Vista Village Care, LLC – Source
Wine Dinings, Inc. – Source
A Ryan Mack is related to Vertical Direct Marketing. – Source, Source
"I know Ryan Mcaweeney he is a real shark. He was connect to Alliance Law firm before they got shut down by the government. He goes by Ryan Mack and owes http://www.vertdirect.com/ as well as his own Debt Settlement Scam company now. STAY CLEAR!!!!" – Source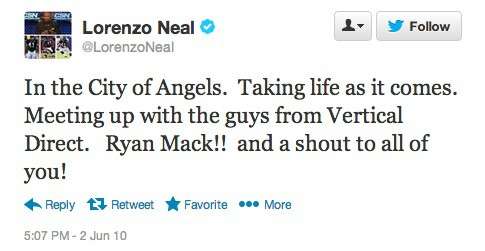 The domain name vertdirect.com now hides its ownership but when it was last public on November 27, 2010 the domain name was registered to Ryan McAweeney.
The tipster (send in your tips here) wrote that Neil Billock was with GP Enterprises but San Diego Magazine reported him on the list of 2013 finalists for the Top Tech Exec Award as being with Vertical Direct Marketing Group, Inc. – Source
Interestingly, the State of California does not show a registered company under the name Vertical Direct Marketing Group, Inc. only Vertical Direct Marketing Group, LLC.
There was a casual reference to a "Chris, Neil & Tracy Billock" that alleged a possible involvement with Alliance Law Center. – Source. And also with KeyPoint Law Group. – Source
A Gabrielle Talleur states she is the Finance & Admin Manager for Vertical Direct Marketing Group. – Source
Then there is this from LinkedIn.

GP Enterprises / Legal Advocates
The State of California lists a GP Enterprises, LLC as doing business at 1270 Webb Circle, Corona, California. – Source. I do not believe this company has any relationship to the GP Enterprises described above. The State does not list any GP Enterprises, Inc. that is active and registered to do business.
The State of California does not list any active or registered companies under the name "Legal Advocates."
Legal Advocates
Besides the use of Legal Advocates in conjunction with a mailer you will see below, there is also a coincidence with some other information including North Carolina Legal Advocates, New York Legal Advocates, Florida Legal Advocates, Fresh Start Legal Advocates, and this reader who said he received a debt settlement postcard from Legal Advocates.
4241 Jutland Drive, Suite 304, San Diego, California
The address listed in the contributed story is also associated with a company called PagePusher, Ultimate Atmosphere Services Corporation, Parisi, and U S Economic Development Corporation. – Source, Source, Source, Source
I do not have any reason to believe those companies are associated with GP Enterprises in any way. If anything, they appear to be possibly previous tenants of that office space.
And just judging by the window configuration behind Ryan M it appears the picture could have been taken at the 4241 Jutland Drive building.
Compare the window configuration for yourself and see what you think.
DebtWave Credit Counseling
I have no way to independently confirm the alleged connection between the enterprises described in the contributed article but the "Vertical Direct Marketing" page the contributor mentioned regarding the G3 Challenge did mention Ryan, Neil, Greg, and Cort.
Coincidently in the list of contributors to the Vertical Direct Marketing pledge drive is an Antony Murigu. – Source
According to CorporationWiki, a Antony Murigu is the President and Chairman of Debtwave Credit Counseling.
According to corporate documents filed with the State of Florida on January 24, 2013, Antony Murigu is the Chairman and President of Debtwave Credit Counseling. – Source
Coincidently there was also a Jason Cash who was associated with Debtwave Credit Counseling and someone with the exact same name is also listed as a contributor. – Source, Source
Jason Cash says he was the "Director of Education" for the nonprofit charity Debtwave and his responsibilities included "Developed scripts and training material for the sales team." Is that really want an education director does?
According to the 2010 public return for DebtWave, a Jason Cash was the Treasurer. – Source
Mack – McAweeney
In the same G3 Challenge pledge drive mentioned above a donatio was listed for "Catherine and Pat McAweeney." I wonder if they are somehow related to Ryan Mack "Ryan McAweeney" or that is a coincidence.

A Ryan "Mack" McAweeney was found and associated with a company called Advecor, Inc. I have written before about a company called Advecor and their deceptive mailers. – Source
According to an article on the Advecor website, "Advecor's three principals came together in February 2003, each bringing their own area of expertise to the fledgling company. Principal and CFO Greg May owned a direct mail house, Ryan McAweeney owned a print and graphic design facility and Greg Dowd had a technology company that specialized in Web development." – Source
"The buyer was Trademark Design Group Inc., 6156 Mission Gorge Road, Suite D, San Diego 92120, or 2710 Thomas Ave., Suite 145, Cheyenne, Wyo. 82001. Gregory S. Dowd is president of Trademark with William F. May as CFO/treasurer and Ryan P. McAweeney as secretary. As of December 2005, the building was leased to Advecor Inc. with Dowd as president and Aweeney as vice president/secretary." – Source
Another couple of companies are related to a Ryan McAweeney in San Diego as well. There is Superior Stone Care, LLC and American Premier Marketing. Source, Source
World Law Debt
In the same G3 Challenge pledge drive mentioned above a donation for $1,000 was listed for a World Law Debt.
Brite Solutions
In the same G3 Challenge pledge drive mentioned above a donation was listed for a Brite Solutions.
Brite Solutions, Inc also trades under the name Brite Solutions Financial Services. Here is a link to past articles on the site for Brite Solutions.
Recently Brite Solutions sent out a marketing piece promoting they are a performance based debt settlement company which seems to confirm the contributors statement of no advance fee referrals. – Source
Advecor, Inc.
The Better Business Bureau reports Advecor has an A+ rating, is located at 7428 Trade St, San Diego, CA 92121, uses the web address LegalMod.us and is involved in the loan modification business. – Source
LegalMod.us was also mentioned in these posts here and here.
An interesting LinkedIn profile for a Sherry White also seems to tie the two companies together. Sherry says she worked at both Advecor and Vertical Direct Marketing Group during the same time period. – Source
Postal Permit 1297
Well it looks like we've come full circle on some other stories with all this research. A number of troubling debt relief direct mail pieces have been sent from postal permit 1297 in the past. See here, here, here, here, here, here, here, here. And as you can see from this mailer and the Vertical Direct Marketing Group presentation shown above it all appears to come back to a possible relationship with Ryan Mack and Vertical Direct Marketing Group and the troubling postal permit 1297.
Coincidently there was also a recent postcard sent out from that postal permit that actually used the phrase "Legal Advocates" in the name.
Conclusion
I will leave it up to the reader to make their own conclusion about the contributed story and refer to the information I was able to locate, to help in their conclusion.
But in running through the facts I was able to independently confirm;
there does appear to be a Ryan Mack associated with Vertical Direct Marketing Group;
the company said they are able to pull "Tier 1 Daily Feed Credit Data" from Equifax and Experian;
the narrative contributed mentioned the debt reduction was said to be to 32% of the debt and the mailer in the North Carolina case says the debt will be reduced up to 67%;
Vertical Direct Marketing Group has been involved in the debt settlement mailer business;
Vertical Direct Marketing Group has had interactions with Antony Murigu (Debtwave Credit Counseling), World Law Debt, and Brite Solutions;
Vertical Direct Marketing Group is located at 4241 Jutland Drive, San Diego, California;
a Neil Billock is associated with Vertical Direct Marketing Group;
a mailer that used the name Legal Advocates with no return address was sent out from a postal permit that appears to be used by Vertical Direct Marketing Group; and,
the North Carolina case also had a document that said it was related to a company that used Legal Advocates in the name.
Let me know what you think, post your comments below.
Sincerely,
You are not alone. I'm here to help. There is no need to suffer in silence. We can get through this. Tomorrow can be better than today. Don't give up.
Do you have a question you'd like to ask me for free? Go ahead and click here.
Latest posts by Steve Rhode
(see all)