On May 23, 2016 the Federal Trade Commission and State of Florida filed suit against Student Aid Center, Ramiro Moris, and Damien Alvarez. The FTC alleges the Florida based company, shocker, took advantage of consumers.
The complaint states:
"Defendant Student Aid Center, Inc. (SAC) is a Florida corporation with its principal place of business at 2500 Northwest 79th Avenue, Suite 190, Doral, Florida 33122. Student Aid Center transacts or has transacted business in this district and throughout the United States. Student Aid Center was incorporated in 2013. At times material to this Complaint, acting alone or in concert with others, Student Aid Center has advertised, marketed, promoted, offered for sale, or sold student loan debt relief services to consumers throughout the United States."
"Since at least April 2013 through September 2015, Defendants operated an unlawful debt relief enterprise that preyed on consumers' anxiety about student loan debt by falsely promising to reduce or eliminate that debt. Defendants marketed their services through inbound telemarketing calls from consumers responding to Defendants' Internet, social media, radio advertising, and through outbound telemarketing calls to consumers who responded to Defendants' websites. Defendants' websites enticed consumers with promises like "Get Your Student Loans Forgiven Now!" and "$17,500 in Up Front Forgiveness?" When consumers called for more information, Defendants told them that they were "approved" or "pre-approved" for student loan forgiveness or reduced monthly payments.
Defendants then claimed consumers could receive the loan forgiveness or modification if they paid upfront fees, typically five monthly installments of $199 or more. In fact, government loan forgiveness programs, for which consumers can apply at no cost, have strict requirements that most of Defendants' customers were not likely to meet."
"Before August 2015, Defendants maintained several websites to promote their student loan debt relief services, including studentaidcenter.org and studentloanforgivenessplans.org. Defendants' websites appeared at or among the top of Internet search results when consumers searched for "student loan forgiveness." For example, Defendants' studentloanforgivenessplans.org website appeared as a sponsored search result on Google and included a hyperlink titled "Obama Loan Forgiveness," in which Defendants claimed to provide "Quick Qualification" and "Fast Easy Approval." Further, Defendants stated consumers can "Qualify for Zero Payment," and "Get Your Student Loan Forgiven Now":"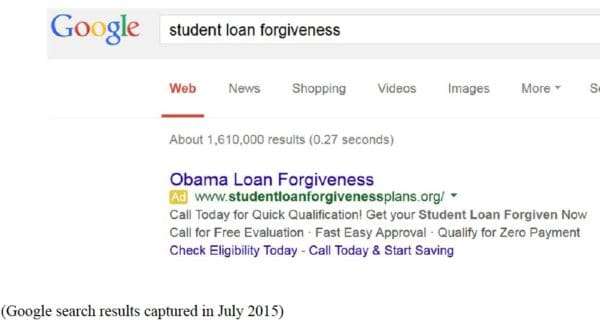 "Defendants' studentaidcenter.org website similarly referred to an "Obama Student Loan Forgiveness Program" and instructed consumers to "Take Advantage of New Federal Programs." Defendants' website urged consumers to "Take Action & Get Your Student Loans Forgiven" and claimed consumers could be "Approved in Minutes":"
"Defendants' websites emphasized their purported ability to provide consumers quick student loan forgiveness. The studentaidcenter.org website included slogans like "Get Rid of Student Loan Debt" and "Get Your Student Loans Forgiven Now!" The website also stated that Student Aid Center had "aid counselors available now," offered "Student Loan Forgiveness Plans," and claimed that Student Aid Center could "Solve Student Loan Issues!" Defendants advertised "Fast Approval," telling consumers they could "Save Time & Money" and achieve "Expert Rapid Results!":"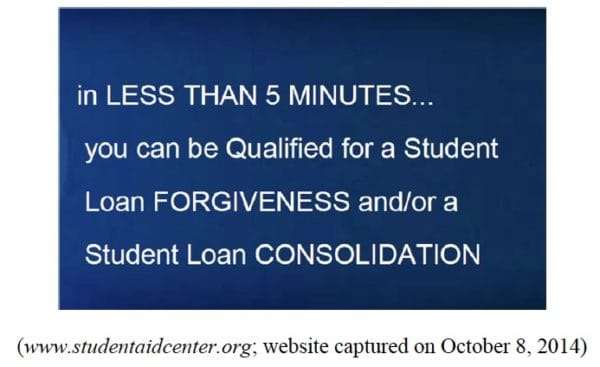 "Defendants' telemarketers initially told consumers they were "approved" or "preapproved" for student loan forgiveness or reduced monthly payments. Defendants' telemarketers lured consumers into signing up for Student Aid Center's debt relief program by promising consumers that their student loan payments would be permanently reduced to a lower amount, often $0. In many such instances, consumers were facially ineligible for immediate loan forgiveness.
In telephone sales presentations, Defendants told consumers that they could receive loan forgiveness or modification for consumers' student loan debt if they paid upfront fees. Defendants' upfront fees typically consisted of three to five monthly installments of $199 or more. Defendants' telemarketers sometimes misrepresented who received these upfront fees, leading consumers to believe that some or all of the fees paid to Student Aid Center would go towards consumers' student loans. In other instances, Defendants claimed the upfront fees were required to demonstrate the consumers' ability to pay the new reduced monthly amount Defendants' telemarketers promised. To induce consumers to pay the advanced fees, Defendants' telemarketers claimed that the student loan debt relief was guaranteed and, if Defendants were unable to secure the promised debt relief, they would refund fees charged to consumers.
In numerous instances, Defendants falsely suggested that Student Aid Center was involved in the student loan forgiveness or modification approval process. For example, Defendants told or implied to consumers that Defendants were affiliated with the consumers' lenders or ED or had a strong and unique relationship with the consumers' lender or ED. Neither claim was true. In fact, Defendants were not authorized to, and therefore could not, approve or pre-approve consumers for student loan forgiveness or lower monthly payments because these determinations are made only by ED.
Defendants often failed to adequately disclose material aspects of the loan repayment plans that they pitched to consumers. Specifically, Defendants placed consumers loans in forbearance, often without their knowledge or consent, while consumers made monthly payments to SAC. Defendants also failed to disclose that interest on consumers' loans continued to accrue while in forbearance, increasing consumers' financial obligations in many instances.
Further, in numerous instances, Defendants told consumers not to contact their lenders or ED. Defendants claimed that they would handle all communications with consumers' lenders or ED. Defendants told consumers that Student Aid Center would be like their attorney and would speak with their lenders and loan servicers. In some instances, Defendants also advised consumers to stop paying their lenders and to instead make the required monthly payments to Student Aid Center.
Defendants typically required consumers to electronically sign a contract containing language directly contradicting what Defendants represented to consumers when inducing them to sign up for Student Aid Center's services. For example, while Defendants frequently told consumers to stop paying their lenders and instead pay Student Aid Center, Student Aid Center's contract directed consumers to continue paying their lenders. Consumers reported Defendants pressured them into quickly electronically signing the contract while Defendants purported to explain the contract.
Consumers frequently did not receive the services Defendants promised. In numerous instances, Defendants represented to consumers that some or all of their loans would be forgiven. In reality, however, Defendants had no ability to authorize or approve student loan forgiveness, and most consumers did not receive loan forgiveness or have their monthly payments reduced to $0.
While Defendants told consumers they were entitled to a 100% money-back guarantee, consumers encountered difficulty requesting and obtaining refunds from Student Aid Center. Often, when consumers requested a refund, Defendants did not provide any refund or they refunded an amount substantially less than what consumers paid. Some consumers obtained a refund only after complaining to the Better Business Bureau or to a state or federal regulatory authority. Further, dissatisfied consumers complained that, rather than issuing refunds after they canceled their enrollment, Defendants threatened to send consumers' accounts to collection in order to collect the unpaid portion of Defendants' fees."
You can Student Aid Center.
The State of Florida and FTC allege the company made false or unsubstantiated representations, "such representations were false or not substantiated at
the time the representations were made."
The companies are said to have violated the Telemarketing Sales Rule, failed to have disclosed material facts, provided deceptive debt relief services representations in violation of Florida law, and charged unlawful fees for debt management or credit counseling services.
Sincerely,

You are not alone. I'm here to help. There is no need to suffer in silence. We can get through this. Tomorrow can be better than today. Don't give up.
Do you have a question you'd like to ask me for free? Go ahead and click here.
If you have a credit or debt question you'd like to ask just use the online form. I'm happy to help you totally for free.

Latest posts by Steve Rhode
(see all)