Courthouse News is reporting a new class action suit has been filed against Meracord (NoteWorld) and other for debt settlement activities.
This 50 page complaint was filed by Steve Berman (steve@hbsslaw.com) with Hagens Berman Sobol Shapiro in Seattle and makes similar allegations as other suits have.
The suit damns companies that have worked or are working with Meracord. It's like a who's who in debt settlement. The lawsuit states:
"Meracord has conspired and/or currently conspires with scores (if not hundreds) of font-end debt relief companies (" Front DRCs"), who together with Meracord compose the Meracord Enterprise. Those Front DRCs include at least the following entities: 1UC, 1st United Consultants, First United Consultants, Debt Solutions, Debt Source Solutions, New Life Financial, Solutions, New Life Financial, New Life Financial Services, Lloyd Ward and Associates, Express Debt Settlement Holdings, Law Office of Simon & Bocksch, EMA Nationwide, Expense Management America, Freedom Debt Relief, First Rate Debt Solutions, Expert Settlement Professional, PRE Solutions, Freedom Debt Center, Accredited Financial Corporation, Amber Network, Best Debt Options, Beyond Financial Service, Brite Credit., Brite Credit 123, Century Negotiations, CNI, Clear Debt Solution, Coastal Debt Solutions, Consumerwise Debt Solutions, Counsel 4 Debt Relief, Countrywide Debt Solutions, Credit Care Corporation, CreditCare Pro, Debt Help Center USA, Debt National Relief, Debt Reinvestment, Debt Solutions, Debt Erase, DebtPointer, DebtPro, DTS Financial Group, E.A.C. Financial LLC, FBL Associates, Freedom Debt Solutions, Help Settle, Helpsettle.com, Innovative Debt Solutions, Lifeguard Financial, Maximum Debt Solutions, Morgan Stevens Financial Solutions Company, National Financial Freedom, Nationwide Consumer Advocacy Group, On Track Financial, Personal Debt Systems of America, Princeton Debt Management, Reduce My Debt, Settle A Debt, Settlement Corporation of America, SilverLeaf Debt Solutions, The Debt Answer, The Debt Cure, US Consumer Report, Vision Debt.com and World Debt Solutions."
"To Meracord and its network of co-conspirators, the Great Recession offered not hardship, but windfall profits through exploitation of those suffering financial distress."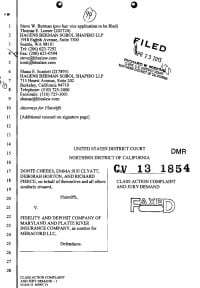 "Meracord engages and relies upon a network of 'front-end' debt relief companies ('Front DRCs') that it utilizes to recruit customers." "The Front DRCs offer to act as intermediaries between distressed and distraught debtors and their creditors, using inflated claims and misrepresentation about their services to sign up customers, and charging exorbitant, abusive, and often illegal fees once the mark is on the hook. The front DRCs require customers to set up an escrow account into which the customer makes a monthly deposit, generally via an automatic electronic funds transfer. These accounts are administered by Meracord, which is a 'back end' debt relief company. In theory, the Front DRC will 'negotiate' with creditors in order to modify or lower a customer's debt obligations and use the funds in the escrow account to pay the creditors on behalf of the customer. In the case of credit card and student loan debts, the Front DRCs will approach creditors and utilize the accumulated balance to settle outstanding debts for a lump sum. In the case of mortgage debt, the Front DRCs claim they can negotiate a mortgage modification that will lower the customer's monthly payments, and that the funds in the escrow account will go towards those new lower payments. The reality, however, is very different from these promises.
"The Front DRCs and Meracord represent to consumers that Meracord is independent and unaffiliated with the Fronts DRCs, and that consumers will at all times have control over their money. Linda Remsberg-Meracord's owner, president and CEO-calls Meracord 'an objective third party processor' on her blog. These statements are false. In fact, Meracord is deeply intertwined with, and actively conspires with, the Front DRCs. For most of the Front DRCs, Meracord provides software through which consumers view their account balances and have the ability to 'approve or decline' settlement agreements with their creditors-if any are actually ever reached. This software in many cases represents the bulk of the 'services' that the Front DRC actually provides.
"Despite its statements to the contrary, Meracord does not act as an independent fiduciary. Together with its network of Front DRCs, it loots customers' escrow accounts by withdrawing exorbitant and abusive fees pursuant to contracts that are wholly fraudulent because they are obtained by means of: (1) false representations, including guarantees about consumers' debts being settled for 'pennies on the dollar'; (2) promises that the DRCs will be able to modify the terms of consumers' mortgages even when the lender has previously rejected modification requests; (3) misleading statements about the success rates of the debt relief services; and (4) In many cases, the customers are told to stop making payments to their creditors-and even encouraged to stop making payments in order to show their 'financial hardship'-in order to pay the exorbitant fees charged by the DRCs, resulting in creditors initiating lawsuits and foreclosure proceedings-leaving the customer in a worse position than before the DRCs offered to 'help.'
"If consumers discover the fraud and attempt to retrieve the illegally extracted fees, they often find that the Front DRC is completely unresponsive, or, worse, is nothing more than a shell entity with no real address and no discernible ownership structure. Meracord, for its part, stonewalls customers and refuses to refund illegal fees, hiding behind false claims that it only provides 'payment processing' services; that it is 'not a debt settlement company;' and that it is wholly 'independent' from the suddenly unavailable (or vanishing) Front DRCs. By the time Meracord actually closes a customer's escrow account, the customer will have lost hundreds or thousands – and in some cases tens of thousands – of dollars in unlawful charges."
"The "churn" rate in Meracord's debt relief payment servicing accounts (cancelled accounts as a percentage of active accounts) approaches 70% — a clear and objective indication that the vast majority of its business activity is wholly fraudulent, If Front DRCs were actually performing debt relief services, the vast majority of their consumers would not cancel their accounts before their debts were renegotiated."
"Although Meracord claims that it is not a debt settlement company, the online account management tool that Meracord makes available specifically has a section entitled "Settlements," where customers can "get more details about [pending settlement agreements] and… approve or decline the proposed agreement[s]."
"The Meracord conspiracy is a classic hub-and-spoke conspiracy which also involves relationships between the various spokes. Meracord serves as the hub of the Meracord Enterprise, entering into bilateral relationships with each Front DRC through which Meracord both directly engages in and facilitates the fraudulent and illegal activity of the Meracord Enterprise, as alleged herein. As discussed above, Meracord also causes and assists the various "spokes" — the Front DRCs — in communicating with and conspiring with each other, all for the common benefit of the Meracord Enterprise and to the common detriment of its victims, whose accounts are involuntarily shifted from one dubious Front DRC to another, with Meracord's indispensable assistance, in order to hinder regulatory protective actions. These relationships between Front DRCs, many of which are facilitated by Meracord, benefit and advance the Meracord Enterprise as a whole. Other relationships between the Front DRCs include their bogus trade associations and countess conspiratorial interactions between such Front DRCs at various debt relief industry functions, including those attended and sponsored by Meracord."
You can read the full complaint, here.
Meracord Problems Continue
Some other cases filed in 2013 that name Meracord as well, seem to continue the pattern of dragging Meracord and partners into a pit of trouble.
On February 18, 2013 a class action was filed in South Carolina against Meracord, NoteWorld, Noteworld Servicing Center, and Legal Network of America.
"The Plaintiff, after becoming aware that the Defendants were putting only a small fraction of his payments towards his debts, cancelled his agreement with the Defendants. At the time of cancellation, Plaintiff had made payments to the Defendant's totaling approximately $16,132.90. Of this total, only approximately $4,872.60 had been earmarked for the Plaintiff's creditors, the difference going to the Defendants as a variety of fees.
Defendants Meracord, NoteWorld and NSC knew, or should have known, that fees associated with the debt settlement program and promoted by Defendant LNOA were in excess of the fees allowed by the South Carolina Consumer Protection Code.
Defendants Meracord, NoteWorld and NSC, nonetheless, initiated automatic transfers from the Plaintiff's bank account for the purpose of paying the excessive and unowed fees for the purpose of carrying out Defendant LNOA's debt settlement program and unjustly enriching themselves."
"Upon information and belief, the Plaintiff paid the following to the Defendants prior to his cancellation of his debt settlement plan: $9,766.25 in "Program Fees" to LNOA; $1,260.00 in "Maintenance Fees"; and $234.00 in "SPA Fees" to Defendants Meracord, NoteWorld and NSC. In comparison, only $4,872.60 was put forth or held in "reserve" for settling the Plaintiff's debts."
You can read that full complaint, here.
Then on March 27, 2013 a New Jersey class action complaint made its way into federal court. This action was filed by The Wolf Law Firm (cute name).
This complaint makes similar allegations, that Meracord violate state debt adjustment and credit counseling statutes.
This complaint appears to leave the front-end debt settlement companies out of the fray and goes after Meracord directly. Although the complaint does say the consumer worked with Expert Settlement Professional, ESP.
"Defendant Meracord, LLC, formerly known as NoteWorld LLC, a/k/a NoteWorld Servicing Center (hereinafter "Defendant" or "Meracord"), a for-profit corporation with offices in Washington State, has engaged in unlicensed debt adjustment activities by accepting thousands of dollars in payments from Plaintiff and other New Jersey consumers in connection with for-profit debt adjustment services, in direct violation of the aforementioned New Jersey civil and criminal statutes and regulations."
You can read that full complaint, here.
Overall it seems the argument is being made that escrow companies or payment processors have a higher degree of responsibility for knowing who the companies are they are working with and not enabling them to violate even the most basic of state laws for debt relief.
But Meracord has moved on and is or has worked with other companies in disadvantaged consumer financial circles. These companies include those offering mortgage modification help or more recently, student loan assistance services.
Sincerely,
You are not alone. I'm here to help. There is no need to suffer in silence. We can get through this. Tomorrow can be better than today. Don't give up.
Do you have a question you'd like to ask me for free? Go ahead and click here.
I can always use your help. If you have a tip or information you want to share, you can get it to me confidentially if you click here.
Latest posts by Steve Rhode
(see all)